LITTLE SHOP OF HORRORS AUDITIONS
November 15, 2021 @ 6:00 pm

-

10:00 pm

PST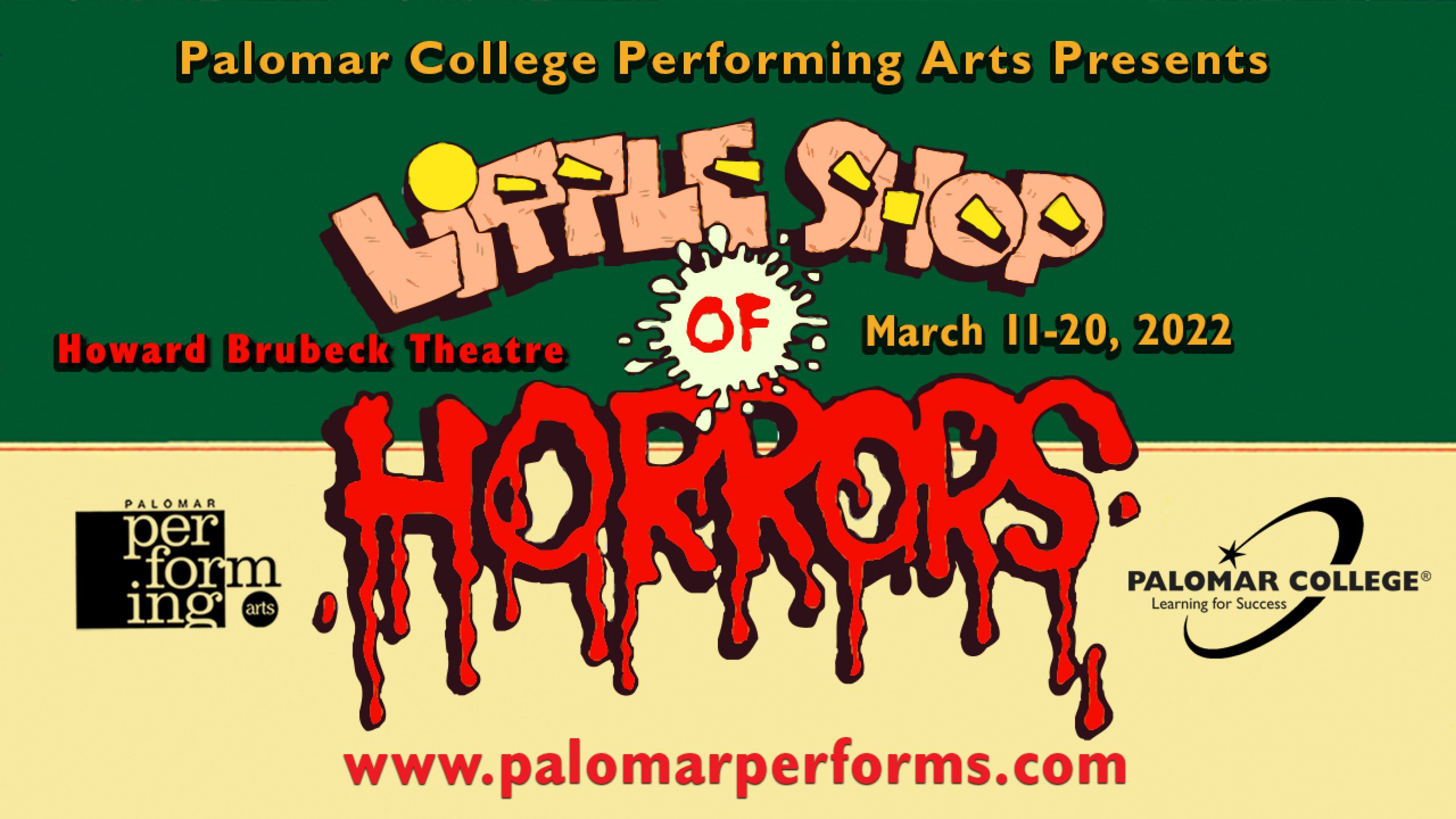 AUDITIONS FOR PALOMAR COLLEGE'S PRODUCTION OF-
"LITTLE SHOP OF HORRORS"-A ROCK MUSICAL
Book and Lyrics by Howard Ashman, Music by Alan Menken
Performance Dates- March 11-20, 2022, Thursday, Fridays and Saturdays at 7pm, Sundays at 2pm
Rehearsals begin January 18, 2022. A tentative rehearsal schedule will be available at auditions. First cast meeting- tentatively December 13 at 7pm
AUDITIONS: Monday, November 15,
6-10pm, Dance Rooms 215/216 by appointment.
Walk-ins will be accommodated as time permits
CALLBACKS: Thursday, November 18, 6-10pm, by invitation of the directing team only
Dance Rooms 215/216
Dance Call 6-7pm
Singing and readings 7-10pm
Click Here to Select an Audition Time:
Director– Kathy Brombacher
Musical Director/Conductor– Ellen Weller
Choreography– Valerie Clark
Seeking a cast of actors, singers, dancers, stage managers and assistant directors.
The musical will be accompanied by a live orchestra with professional designers in scenery, costumes, lighting and sound.
Actors will play roles in age ranges from 17 to 70 (see character breakdown below)
Stage Managers and assistant director will attend all rehearsals, learning blocking, calling cues for the production and managing crew members. Interviews for these positions will be held by appointment. Please make an appointment online and bring resume.
All roles are open and all ethnicities are encouraged to audition. Company members will register for a 2-unit theatre class at Palomar College in order to join the Company.
REQUIRED AT THE OPEN CALL AUDITION:
• Two headshots, two theatrical/music/dance resumes
• Fill out audition paperwork on site
• Bring schedule of possible work or class conflicts to compare with rehearsal schedule
• Perform a one-minute song from a rock musical
• Bring piano sheet music in the correct key for the accompanist
FURTHER INFORMATION:
• Cast will be announced within one week of the callback auditions
• All actors and crew joining the company must attend each rehearsal specified for their character and each performance
• Each actor or crew member will be required to register for a 2-unit class in the Theatre department at Palomar College
CHARACTER DESCRIPTIONS:
CHIFFON, CRYSTAL, RONETTE: (ages 16-22) Three sassy Skid Row street urchins/drop-outs who serve as a Motown-style Greek Chorus. This is 1960 and we are on Skid Row but these girls harmonize as well as the Supremes, and are strong dancers who climb up the ladder of success with Seymour.
SEYMOUR KRELBOURNE: (age 18-30, tenor) an orphan living on Skid Row in the basement of a run down flower shop. He recently bought a mysterious plant after a sudden eclipse of the sun. Seymour is secretly in love with Audrey. Seymour is our anti-hero and this is his story.
AUDREY: (age 18-30, mezzo with high belt) a pretty girl who works at the Skid Row florist shop who has a tacky sense of high style and dates a sadistic dentist. Audrey has a heart of gold and big dreams which she shares with Seymour.
MR. MUSHNIK: (plays age 50-65, baritone) Older sardonic character man. Owns Skid Row florist and is broke and about to close the shop when we first meet him. Business is his first passion.
ORIN, THE DENTIST: (age 30-45, baritone) Handsome in a sleazy way. Orin rides a motorcycle and wears a lot of leather. He has a strong confident personality which turns nasty when he victimizes Audrey. He is used to giving orders with no refusal. Needs strong actor who understands comic timing. His good guy façade is layered with a twisted fetish for pain.
AUDREY II-THE PLANT: (true bass) we see him as a wino in "Skid Row" and this is a voice only role during the rest of the show. Needs to be a skilled vocalist familiar with jazz/rhythm and blues riffs. The plant coordinates vocals with the Puppeteers operating the plant(s). This is a taxing and rewarding role.
AUDREY II (Puppet Manipulator) These puppeteers will operate the physical plants from small to large. The main Manipulator will sit in the driver's seat of the large plant, must be physically strong and flexible and move and dance to music. Other ensemble actors will assist with the plant changes.
ENSEMBLE: to play Derelicts, Skid Row Occupants: all members of the Ensemble will play one minor role such as Customer, Radio Announcer, Mr/Mrs Berstein, Mrs Luce, Skip Snip and Patrick/Patricia Martin and assist with making set changes and Plant changes.