Cracow Duo: Kalinowski & Szlezer – Concert Hour
November 9 @ 1:00 pm

-

2:00 pm

PST

Free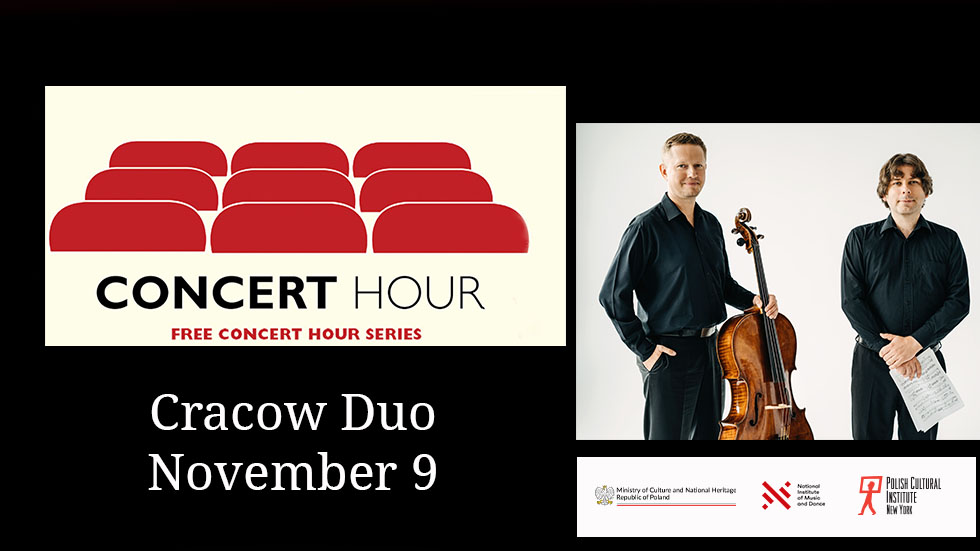 LIVE at the Howard Brubeck Theatre! Back on Stage and In Person!
Palomar Performing Arts Proudly Presents
CONCERT HOUR
Every Thursday at 1pm
Join us every Thursday at the Howard Brubeck Theatre on the San Marcos Campus for a FREE LIVE Concert Hour Performance at the Howard Brubeck Theatre on the Palomar College Campus, San Marcos. Palomar Performing Arts is excited to open its doors to our students, staff and community members for our Free Concert Hour Series in person every Thursday at 1pm LIVE on the Howard Brubeck Theatre Stage.
Concert Hour is a FREE music enrichment series presented for our students and the community by the Palomar College Performing Arts Department.
Parking is Free in lots 1 & 15 during Concert Hour.
Cracow Duo: Kalinowski & Szlezer
www.cracowduo.com
Magazine "The Strad" wrote about the Cracow Duo: "Kalinowski and Szlezer, friends since childhood, have a wonderfully natural rapport and there is an arresting quality to their playing that gives life to the music". They studied together in Cracow and Paris and began to perform together as Cracow Duo over twenty years ago. Since that time their concerts and recordings received the highest critical acclaim in Poland and abroad. Musicians performed on the most prestigious stages, including Seoul Arts Center in Seoul, Alfred Newman Hall in Los Angeles, Carnegie Hall in New York, Palacio de Bellas Artes in Mexico, Salle Cortot in Paris, St. Martin-in-the-Fields in London and Concertgebouw in Amsterdam. They share a special commitment and fascination with music written by rarely performed Polish composers, as well as works by contemporary Polish and foreign composers written specially for them. Since 2009, Cracow Duo regularly records and releases CDs. Their albums have received numerous awards and distinctions. In 2021, on the 20th anniversary of the Cracow Duo, musicians recorded an album entitled Classics & Discoveries (DUX, 2021). In 2023, DUX released another album from the Dedications series (vol. 3, DUX, 2023), presenting compositions written for Cracow Duo by Polish composers in years 2015-2022. In 2020, the American label included their recordings on the compilation The Best of Polish Classics. A similar understanding of music and common artistic vision coupled with a virtuosity and a concert experience have produced interpretations that are emotional, sincere and spontaneous.
Jan Kalinowski (born 1982) Studied at the Music Academy in Cracow, the École Normale de Musique in Paris and the Staatliche Hochschule für Musik und Darstellende Kunst in Stuttgart under the guidance of Professors: Witold Herman, Paul Julien and Peter Buck. He has also taken part in master classes given by David Geringas, Ivan Monighetti and Arto Noras. He has recorded for radio and television, including the cello concertos by Witold Lutosławski (Lebanese National Orchestra, Azerbaijan State Philharmonic) and Marek Stachowski (Beethoven Academy Orchestra). As a solist he has been performing under the baton of many renowned conductors, such as: Rauf Abdullayev, Łukasz Borowicz, Wojciech Czepiel, Jacek Rafał Delekta, Jurek Dybał, Michał Dworzyński, Jacek Kasprzyk, Adam Klocek, Paweł Kotla, Paweł Przytocki, Daniel Rajskin, Jacek Rogala, Maciej Tworek, Alan Urbanek and Antoni Wit. He is Professor, he works at the Krzysztof Penderecki Academy of Music in Krakow, where he holds his own cello class. In 2014 DUX published an album with his artistic project Polish Cello Music containing works by polish composers for cello ensembles from one to eight instruments. Jan Kalinowski also recorded the V Suite by Johann Sebastian Bach for the Bach Society and took part in recording the album: Krzysztof Penderecki – chamber music vol. II Violoncello Totale (DUX, 2017). For his artistic activity and commitment to promote Polish music, he was awarded the honorary badge Meritorious for Polish Culture by the Minister of Culture and National Heritage. From 2012 he plays the instrument by Wojciech Topa.
Marek Szlezer (born 1981) Is one of the most sought-after Polish pianists. His career started with the Grand Prix at the International Piano Competition in Rome at the age of 12. He has studied at the École Normale de Musique in Paris, the Music Academy in Cracow and the Chapelle Musicale Reine Elisabeth in Belgium with Ewa Bukojemska, Abdel Rahman El Bach, Dmitri Bashkirov and Marcella Crudeli. His consummate performances of Frederic Chopin's music have won him numerous prizes: 1st Prize at the National Chopin Competition in Warsaw and the special prize of the Chopin National Edition. He had the honor to play a concert on Chopin's original piano at the Jagiellonian University on the night Poland entered the European Union. Marek Szlezer has performed in such prestigious concert halls as Carnegie Hall, Palais des Beaux Arts, Salle Cortot, Wigmore Hall, St.Martin-in-the-Fields, Alfred Newman Hall and NCPA. He has performed with leading orchestras, including the English Chamber Orchestra, National Symphonic Orchestra of Ukraine and the National Polish Radio Symphonic Orchestra. He discovered the piano music of Jadwiga Sarnecka and recorded a selection of her compositions for DUX. He is the author of numerous research papers about piano works of Polish composers, as well as book publications and articles about Polish music. He has recorded several albums, receiving an enthusiastic critical acclaim in prestigious musical magazines (Gramophone, Kulturspiegel, The Strad, Pizzicato, Fanfare, American Record's Guide among others). He is Professor, he works at the Krzysztof Penderecki Academy of Music in Krakow, where he holds his own piano class. For his artistic activity and commitment to promote Polish music, he was awarded the Gloria Artis medal by the Minister of Culture and National Heritage. Marek Szlezer is Steinway Artist.