Carol Seefeldt – Concert Hour
May 11 @ 1:00 pm

-

2:00 pm

PDT

Free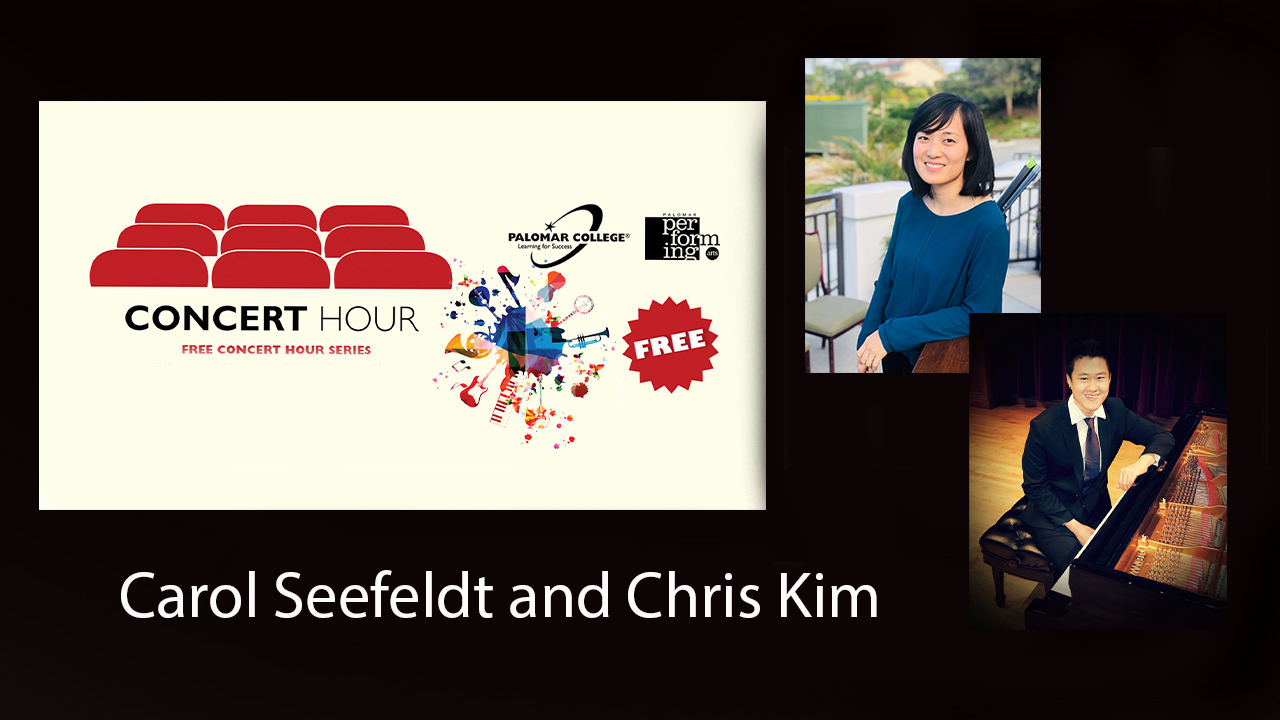 Watch Live in Person on the Campus of Palomar College and On Zoom
This performance will be held in the Howard Brubeck Theater
You can register for Concert Hour By Clicking Here. 
As a classical pianist, Carol Seefeldt has extended piano training for more than twenty years. In 2010, she graduated from California State University at Fullerton with a Bachelor's degree in Piano Performance studying under Dr. Robert Watson and Dr. Joseph Matthews. While working towards her degree in music she collaborated with various instrumentalists and vocalists for their lessons as well as chamber music events. In 2010 she was the winner of the Sigma Alpha Iota Award and the CSUF Piano Department Award. In 2012, she graduated from Indiana University with a Master's degree in Piano Performance studying under Professor Jean-Louis Haguenauer. Aside from her private lessons, she benefited greatly from attending weekly masterclasses held by Arnaldo Cohen and Evelyne Brancart. At Indiana, Seefeldt not only accompanied instrumentalists and vocalists, but was also a member of the Indiana University's Symphonic Band, Concert Band and Wind Symphony as their rehearsal and concert pianist. During these years of study, Seefeldt had performed over fifteen professional public recitals consisting of solo piano repertoire and various chamber repertoire. (As a private  piano instructor,  Carol Seefeldt has over twelve years of teaching experience. During these years, she has been teaching a variety of students from the beginning level to the advanced level. Her students also come from different age groups ranging from young children to adults. Seefeldt is a strong promoter for musicality, creativity and enjoyment. Her teaching focuses on making music organic by using the body in the most natural way possible.) Note: can remove if too long. Since moving to San Diego, Carol Seefeldt has been working as a piano accompanist for several private studios, Certificate of Merit program, Flute Guild Festivals, students from San Diego State University, and University of San Diego.  She has also been featured as a gues​​t artist at the Youth Philharmonic Orchestra's Summer Chamber Music Performance series directed by Alyze Dreiling. In 2016, Seefeldt made her debut performance at the Carnegie Hall in New York after winning First Prize of the New York Artists International Competition. Ms. Carol Seefeldt currently holds a faculty position at University of San Diego and is the Co-Founder of San Diego Music Academy.
Chris Kim's passion and dedication for the piano manifests in his music. Even though he began piano during his childhood years, many difficulties in life forced him to stop many times. He started his formal studies at the age of 23, considered a very late start for a musical career.  Despite these challenges Kim's music has been described as "the most colorful and sophisticated playing".  In 2009, Mr. Chris Kim attended the Colburn School and received the Rose Hills Foundation Scholar Award. In 2013, he earned his Master of Music in Piano Performance from Indiana University, Jacobs School of Music. During the several years of study,  Kim became a recipient of the Music Merit Award and Educational Opportunity Fellowship. At IU, he studied mainly with the world renowned performer and educator Arnaldo Cohen. Kim's musicianship then continued to mature through private study and masterclasse with artists including John Perry, Mina Perry, Logan Skelton, Eveyln Brancart, Jean-Louis Haguenauer, Jerome Rose, and Murray Perahia. In the following years, Mr. Kim earned an Artist Diploma from the University of Denver, where he studied under Dr. Steven Mayer. In 2015 he won the school's prestigious Concerto Competition, performing Saint-Saëns' Second Concerto with the Lamont Symphony Orchestra at the Newman Center's Gates Concert Hall. Soon after, he was profiled in Expressions and Lamont Lyric magazines.  That same year, Kim performed at Carnegie Hall after winning 1st prize of the New York Artists International Competition. (Kim's vast accomplishments also extend to his teaching, where his lesson has been described as "a different way of approaching music with deeper interpretation that teaches the connection of life and music as one". As a result Mr. Kim's students have won a number of national and international competitions such as the CSMTA Concerto Competitions, Kiwanis Star of Tomorrow, Kawai Piano Competition, Steinway Concerto Competitions, MTAC competitions, and most recently the Broomfield Symphony Orchestra Concerto competition. This had created many opportunities for his students to perform with various orchestras and play at famous venues including the Carnegie Hall and Lincoln Center. Kim's passion for music and teaching had also encouraged and inspired numerous students to start their careers in music by pursuing a major/ minor degree in music. ) Note: please remove if too long. Mr. Kim currently resides in the San Diego area where he is the organist/pianist at Foothills United Methodist Church, and the director of San Diego Music Academy.
Related Events