Winter Dance 2023 – Directed by Patriceann Mead
December 9 @ 2:00 pm

-

4:00 pm

PST

$10 – $16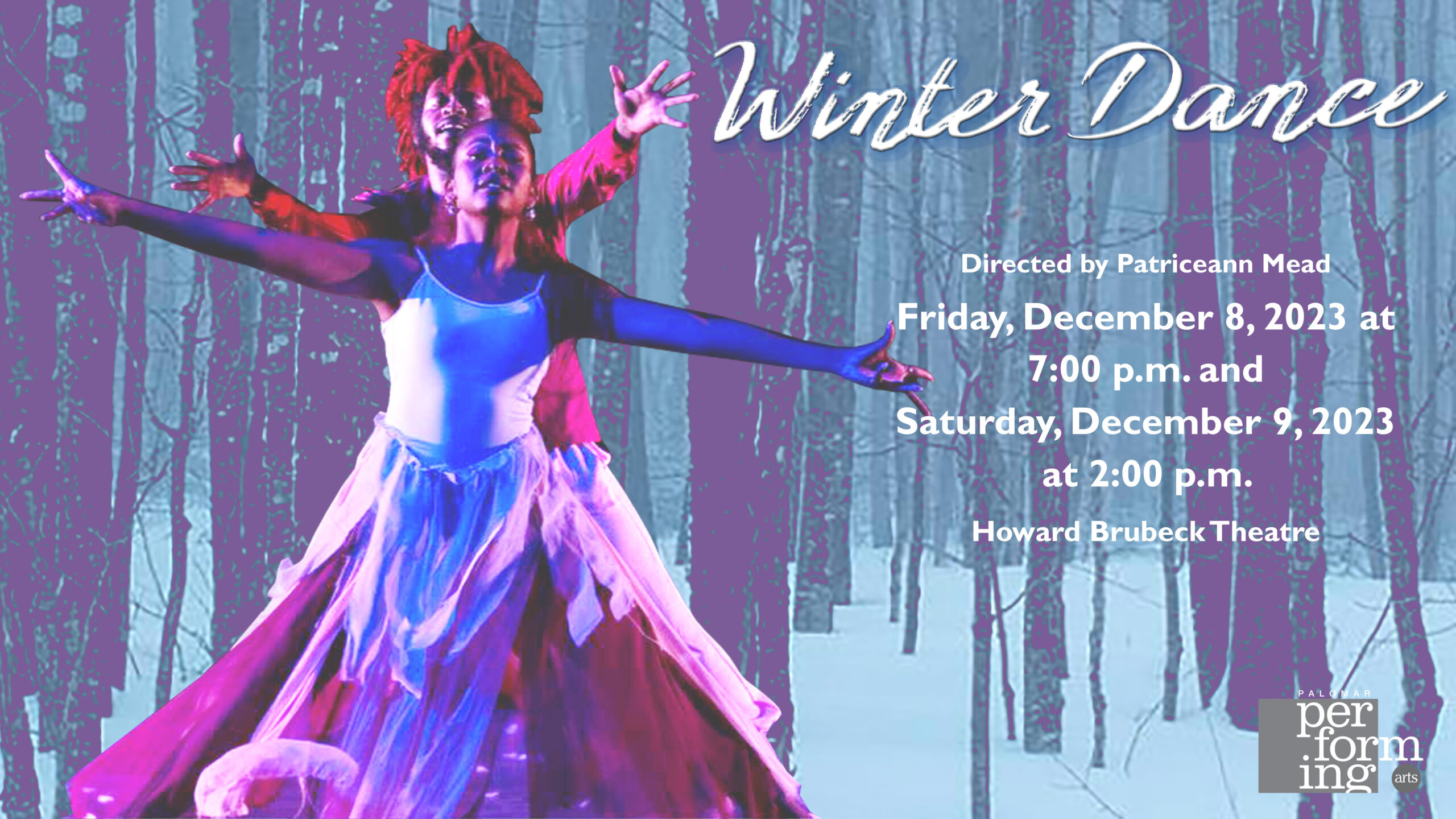 WINTER DANCE 2023
Directed by Patriceann Mead
Friday, December 8, 2023, at 7:00 p.m. and Saturday, December 9, 2023,
at 2:00 p.m. (HBT)
Modern, Ballet, Tap, Jazz, Hip Hop, World Dance, and Musical Theatre forms! Palomar
dance students and faculty will warm your heart with outstanding original choreography
with a variety of dance styles and traditions to ring in the holidays
Click Here to Buy Tickets
October 31, 2023
FOR IMMEDIATE RELEASE        
Palomar Performing Arts continues its 2023/24 Performing Arts Season with the Winter Dance 2023 Recital
 Palomar Performing Arts will present Winter Dance 2023 directed by Patriceann Mead on Friday December 8, 2023, and Saturday December 9, 2023, in the Howard Brubeck Theater at 7:00pm on Friday and 2:00pm on Saturday.
Prepare to be enchanted as the diverse talents of Palomar dance students and faculty present many dance forms, including Modern, Ballet, Tap, Jazz, Hip Hop, World Dance, and Musical Theatre. These exceptional performers will warm your heart with original choreography that embodies a medley of dance styles and traditions, ushering in the holiday season with exuberance.
The performance will feature an array of original choreography, reflecting the artistry and talent of Palomar's dance community. From the rhythmic flair of Hip Hop to the grace of Ballet, the audience will be taken on a journey through a tapestry of movement, providing a delightful celebration of various dance genres.
Palomar College extends a warm invitation to dance enthusiasts, community members, and all who appreciate the arts to partake in this remarkable celebration. This event promises to be a joyous and vibrant celebration, uniting audiences in the joy of the holiday season through the universal language of dance.
Parking is free in lots 1 & 15 for this performance. Howard Brubeck Theatre is located at Palomar College, 1140 W. Mission Road in San Marcos, CA 92069. Tickets and updated information can be found at www.palomarperforms.com or by calling or texting 760-214-9109. Group rates are available. Ticket prices range from $10 – $16.
Media Contact:
Carl Thompson – Marketing and Program Coordinator
cthompson2@palomar.edu   760-744-1150, ext. 3997