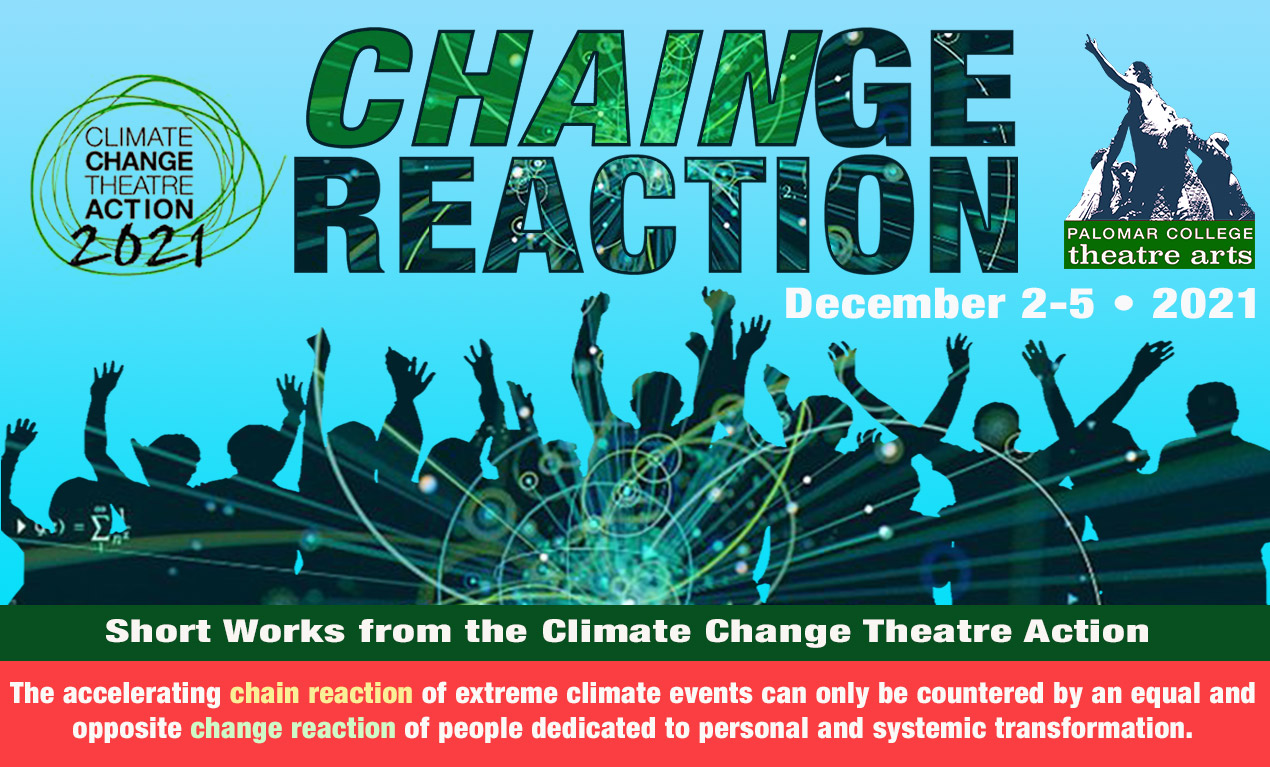 The accelerating CHAIN REACTION of extreme climate events can only be

countered

by an equal and opposite

CHANGE REACTION

of people dedicated to personal and systemic transformation.  Are you ready to be part of the

CHAINge REACTION

?
CHAINge REACTION
Experience a dynamic selection of short plays from around the world, written to capture the potential of this urgent historical moment.  The performances use humor, poetry, absurdity, physicality and drama to inform, challenge and inspire.  We will  spark hope for the hopeless, insight for the ignorant, action for the apathetic and energy for the engaged.  Get ready to be part of the Chainge Reaction.
The program is approximately one hour followed by dialogue and community building.
These plays were selected by our ensemble from a collection of 50 international plays commissioned by The Climate Change Theatre Action 2021.
It's the metaphor for how we make change faster than seems possible.
ATTEND LIVE OR WATCH ON ZOOM
You can attend the performance live in our Studio Theatre (Facial Coverings Required) or watch our live-streamed, 3-camera broadcast on Zoom.  When you purchase tickets make sure to select your preferred option.
Thursday • December 2 • 7PM
Friday • December 3 • 7PM
Saturday • December 4 • 8PM
Sunday • December 5 • 2PM
The Penguin
BY Nicolas Billon
(Canada)
Paying For It
by Thomas Peterson (United States)
Not Because We're Good
by Chris Thorpe
(United Kingdom)
 Debatably So
by Remy Reid

Palomar Original
Moo! Be Quiet! Lambchop's Secret Mission to Steal Every Cow in the World
By ALISTER EMERSON
(New Zealand)
Sammie & Gran
by Mark Rigney (United States)
Bedtime Story for My (future) Daughter


By Caity-Shea Violett

(United States)
Billionaire's BBQ
by Michael Mufson
COST
by Zizi Majid

(US/Malaysia/Singapore)
What We Give Back
by Madeline Sayet
(US/Mohegan)
So this is the last apple pie
by Haeweon Yi

(Korea)
The Climate Crime Tango
Inspired by
The Cell Block Tango
SCROLL DOWN FOR PLAYWRIGHTS' INSPIRATION STATEMENTS AND BIOS
The Penguin BY Nicolas Billon (Canada)
I am fascinated with the moral gymnastics and cognitive dissonance required to object, on principle, to projects that seek to address climate change with concrete action — like the Green New Deal. That was the seed of this play.
Nic Billon writes for theatre, television, and film. His work has been produced around the world and garnered many awards, including a Governor-General's Award for Drama, a Canadian Screen Award, and a Writers Guild of Canada Screenwriting Award.
Moo! Be Quiet! Lambchop's Secret Mission to Steal Every Cow in the World by ALISTER EMERSON (New Zealand)
Those who are observant you may have spotted that Moo! Be Quiet! Is another way of saying "Shut up cow!" This play was inspired by the courage and work of Alexandria Ocasio-Cortez in the face of resistance and opposition. I have seen countless speakers (typically middle-aged white men) trying to justify their position and desperate to cling to the status quo. Typically, the conservative position attempts to oversimplify and reduce ideas down to a sounding board that they can beat on to drum up fear about what might be lost instead of focusing on what might be gained.
ALISTER EMERSON (New Zealand) is a playwright and the Artistic Director of Duck Bunny Theatre – a small but feisty theatre company using satirical humour to comment on the absurdity of corporate stupidity, greed and corruption. His recent plays include The Fridge, Six Polar Bears Fell Out of the Sky This Morning and Ed Sheeran Tastes Like Chicken, a play about the plight of the endangered Maui's  Dolphins which debuted at the Nelson Fringe Festival and was shortlisted for the NZ Playmarket Plays for the Young.
COST by Zizi Majid (US/Malaysia/Singapore)
An enduring fact of climate change is that those who are least responsible bear the brunt of its consequences. In this play, I imagine what it would be like if there had been some positive progress made vis-a-vis the Green New Deal and private non-profits that had persuaded global carbon emitters to cut financial risk associated with climate catastrophe. Yet, there would still be those in the developing world dealing with the consequences of calamitous energy production.
Zizi Majid is a Malay-Singaporean playwright based in New York City whose plays advocate for a shared humanity. Her award-winning plays have been staged in New York City, Singapore and China. For five years, Zizi was Artistic Director of Teater Ekamatra (Singapore), successfully breaking into the mainstream during her tenure, tripling audiences and garnering multiple awards. Awards: Young Artist Award (National Arts Council, Singapore). Fellow of WP Theater's 2020-2022 Lab, NYC. MFA Playwriting, Columbia University.
Paying For It by Thomas Peterson (United States)
This is a play about paying for climate action or paying for climate inaction; a play about who pays, and how.
Thomas Peterson (United States) is an organizer, writer, and director whose work focuses on  the climate crisis. He is the Artistic Associate with The Arctic Cycle, with whom he co- organizes Climate Change Theatre Action. He has written about theatre and locality, climate  propaganda, and the aesthetic of the sublime in climate theatre. He is currently developing The Woods Avenge Themselves, an original adaptation of Ibsen's The Wild Duck.
Sammie & Gran by Mark Rigney (United States)
I have a long-running feud with unused parking lots. They trap heat and give  nothing back. If we're visioning for the future, let's re-imagine how we use our supposedly lost- cause spaces. As for theater, well. In five minutes? Better make it fun!
Mark Rigney's plays have been produced in twenty-two states plus Australia, Canada, Hong Kong, and Nepal. In New York, his work has played off Broadway at 59e59. He is a member of the Dramatists Guild and has won multiple national playwriting contests, including the John Gassner Award, the Panowski Playwriting Award, and the Maxim Mazumdar New Play Competition. His published work is available from Playscripts, Inc. and Smith & Kraus's The Best Ten-Minute Plays.
What We Give Back By Madeline Sayet (US/Mohegan)
This piece was inspired by the idea that even a green new deal still operates out of a commodity economy as opposed to a gift economy principle, and if we are truly to heal our planet, we must go further to remember the Earth's natural principles of exchange in relation and reciprocity, or we will never give her what is owed.
Madeline Sayet (she/her) is a citizen of the Mohegan Tribe and Executive Director of the Yale Indigenous Performing Arts Program. For her work as a theater maker she has been honored as a Forbes 30Under30, TED Fellow, and recipient of The White House Champion of Change Award from President Obama.
Not Because We're Good by Chris Thorpe (United Kingdom)
I've been thinking a lot recently about how change happens, and how we think change happens, and what the difference is. How – particularly for a more materially comfortable society, or section of a society – change doesn't necessarily stem from inspiration or desire for the majority of people. It's something that happens due to the dedication and work of others, is implemented, and then just gone along with, because most of us in that situation find it the easiest path to take. This bit of writing tries to imagine – if the problems facing us got solved – what that part of us would say about our role in that solution.
Chris is a writer and performer from Manchester, UK. He works mainly as a playwright, and occasionally for radio and TV. Currently he's collaborating with China Plate, Rachel Chavkin, Javaad Alipoor, Yusra Warsama, Lekan Lawal, Hannah Jane Walker, the Royal Court Theatre, Staatstheater Mainz and Nationaltheater Mannheim and the Royal Exchange. His new piece Always Maybe The Last Time, written at the Royal Court/Methuen Climate Commission, opens in 2021.
Bedtime Story for My (future) Daughter By Caity-Shea Violette (United States)
This play was inspired by the idea of building a better world for the next generation. As a storyteller, I'm always fascinated by how we will explain the world we are fighting to change to the children who are just entering it. As a person who doesn't (and may never) have children, I wanted to write from a place of deep care and advocacy for future generations that extends beyond the borders of immediate family.
CAITY-SHEA VIOLETTE is a US-based playwright whose work explores breaking cycles and learning how to belong to yourself. She's a winner of the Jean Kennedy Smith Playwriting  Award, The Clauder Competition, Samuel French OOB Festival, Gary Garrison National Ten- Minute Play Award, and Susan Glaspell Playwriting Festival National Award. Theatres  presenting her work include Portland Stage Company, Roundabout Theatre Company, the Kennedy Center, and Boston Playwrights Theatre. She holds an MFA in Playwriting from Boston University.
So this is the last apple pie by Haeweon Yi (Korea)
What are fruits and vegetables telling us about the climate crisis? In many northern hemisphere countries, including Korea and India, apple farming areas have been moving north over the last few decades due to climate change. While only a few consumers care about where their apples come from, our communities' lives have been rapidly changing and there is a high possibility of losing most of the land for growing apples within 50 years.
Haeweon Yi is a theatremaker from Korea. She aims to deliver various echoes heard on the Earth through theatre. She co-founded a participatory theatre company, Blooming Ludus, in 2015. The company focuses on connecting people, art and the environment to fight for climate justice and a sustainable future. Her major works include Power Story (2016-2017), the Salt & Vinegar series (2016-2020), How Much Space Do We Need for Living? (2020) and How To Become A Rock (2020).
 Palomar Originals
 Debatably So by Remy Reid
A high school debate on climate change runs amok when disrupted by a violent storm.  Inspired by our ensemble's collective frustration with the US K-12 education system's lack of relevant teaching on this urgent topic.  It's satirical edge intends to provoke with humor and absurdity while providing some relevant facts about climate collapse.
Remy Reid is a Palomar Theatre Arts student.  He recently participated as a prolific playwright and performer in our anti-racism project It's Monumental: Ending The Silence.
Billionaire's BBQ by Michael Mufson
This short theatre action was commissioned by the San Diego Interfaith Coalition for Earth Justice for the Faith For Climate Justice Global action on October 17 & 18 20,2021. The Billionaires invite you to join them for their End of the World BBQ and Going Out Of Business Sales.  You won't want to miss these hot deals!
Michael Mufson is a Professor of Theatre Arts at Palomar College.
ABOUT CLIMATE CHANGE THEATRE ACTION
Founded in 2015, Climate Change Theatre Action is a worldwide series of readings and performances of short climate change plays presented biennially to coincide with the United Nations
COP meetings
.
CCTA uses theatre to bring communities together and encourage them to take local and global action on climate. By providing tools (a series of plays) free of charge, some guidance on how to produce events, marketing support, and a model that encourages leadership and self-determination, we make it easy for everyone to engage with an art form they may not be familiar with, and we empower them to harness their creative potential and put it in service of the greater good.
Every other year, 50 professional playwrights, representing all inhabited continents as well as several cultures and Indigenous nations, are commissioned to write five-minute plays about an aspect of the climate crisis based on a prompt.
This collection of plays is then available to producing collaborators interested in presenting an event during the project's time window, typically in the fall. Events can be in-house readings, public performances, radio shows, podcasts, film adaptations – the possibilities are endless! Collaborators can design their event to reflect their own aesthetic and community, and include additional material by local artists.
To emphasize the "Action" part of Climate Change Theatre Action, collaborators are also urged to think about an action – educational, social, or political/civic – that can be incorporated into their event. It may involve the scientific community, other departments within a university, local environmental organizations, etc. Examples of actions from previous years include: presentations by scientists; donations to hurricane relief efforts and food banks; conversations with social justice and environmental organizations; writing letters to legislators, and; sharing tools for sustainability at the local level.
| | |
| --- | --- |
| GIVE ATTENTION | TAKE ACTION |
We can start simply by giving our attention to staying informed and starting conversations. In the age of the attention economy, our attention is a valuable resource.  The more attention we give, the more leverage we gain.
Some Weekly Podcasts that provide breadth, depth analysis and breaking updates:
Here are some podcast episodes with dynamic discussions about Climate Change
Websites to Check Out
Personal Actions
Eat less meat and dairy or even go all the way to Vegan
Use glass instead of plastic
Use a reusable water bottle instead of buying bottled water
Replace your lights with LED or Compact Flourescents
Hang dry laundry when possible
Drive less • walk, bike or take public transportation when possible
Drive an electric vehicle
Buy locally produced food
Grow your own food
Reduce food waste
Compost your food waste
Repurpose household items instead of adding to trash
Power your home with solar panels
Turn off and unplug appliances and computers
Make your home energy efficient
Shop sustainably
Systemic Actions
Connect with climate activist organizations
Put pressure on local, state and national legislators to pass significant climate legislation and regulation
Vote for politicians that support climate action
Divest in fossil fuel corporations and other polluters.  If you are part of a retirement fund, pressure your fund manager to divest.
Support the planting of more trees
Protect the Amazon rain forrest
Protect the oceans and waterways
Start Climate Conversations as often as possible
Take to the streets. Show Up for Climate Rallies