Palomar and Poway Unified officials cut the ribbon to open Poway to Palomar Middle College (PPMC), an innovative new high school, as dozens of high school students arrived for the first day of the fall semester.
RANCHO BERNARDO (August 15, 2022) — The newest high school in the Poway Unified School District opened its doors with a ribbon-cutting ceremony and the first day of classes at Palomar College's Rancho Bernardo Education Center on Monday, August 15, 2022.
For the first time, some 43 students enrolled in the alternative Poway to Palomar Middle College (PPMC) filed into class to applause from faculty and staff, filling a room on the ground floor of the building.
"It is an honor to welcome the first class of students to call Palomar's Rancho Bernardo Education Center their high school home," said Superintendent/President Dr. Star Rivera-Lacey. "We are beyond excited to open this Middle College with our partners at the Poway Unified School District, and we are all looking forward to the many success stories we know are going to come out of these classrooms."
"We are so pleased to be able to offer this unique experience for our students," said Carol Osborne, Associate Superintendent Of Learning Support Services at Poway Unified. "This newest campus is the result of nearly five years of planning and collaboration, and it is exciting to see it finally come to fruition. PPMC is meeting students' needs, inspiring their passion, and connecting them to their future careers and college plans."
For years, the Palomar Community College District (PCCD) has provided several ways for high school students in the district to earn college credit. A number of high schools throughout the 2,500-square-mile PCCD have hosted "dual enrollment" courses in partnership with the college, for example.
Poway to Palomar Middle College is unique in that it is the first high school located entirely on one of Palomar's campuses: Students will attend class at Palomar in Rancho Bernardo; they will have access to the library there; and they will have additional support from staff on site.
They will also graduate high school with up to a full year's head start on their college coursework.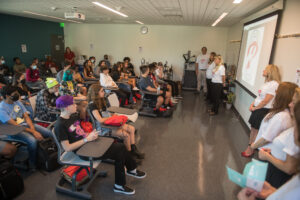 Officials said the goal is to bring the "high-potential, high-risk" students who are least likely to choose higher education into the college environment and provide them with their first college credits while still in high school.
Poway Unified School Board President T.J. Zane said the new school, which is the district's first "middle college" campus, highlights the innovative partnership between Palomar and Poway Unified School District.
"We're really excited to be able to provide another educational pathway for students beyond the traditional model," said Zane. "It's been a long time coming—since before the pandemic. Big kudos to all of the staff of Poway Unified and Palomar College who worked together to make this happen."
Patty Hurtt, Principal of PPMC, said that the school has been in development since 2018, and called Monday's grand opening "the highest point in my career."
"The students are so special, and each of them has their own reason for being here," said Hurtt. "Until now, they may not have had confidence in their education, but now they will know that they can succeed.
"To see this much support, from Poway Unified and Palomar College, for these students means the world to me," Hurtt added.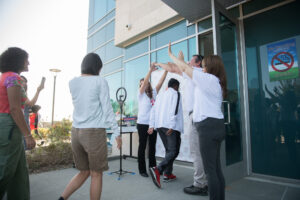 Tom Medel, Director of the Rancho Bernardo Education Center, said he was thrilled to see the doors finally open on a school that has been four years in the making.
"We value our partnership with Poway Unified, and it's all about the students—about providing a great new alternative program to help them get those first college credits while they're still in high school," said Medel.
After the ceremony, the students settled into their first class, meeting the team of Poway Unified staff who are now located at Palomar's Education Center and starting their first day with an ice-breaker.
"I like to see students happy and enjoying their education," Hurtt, their new Principal, told the class. "That's what I like to see when I look in the window."