Out of a large pool of trainers from 112 institutions, Flecicia Heise has been awarded the highest honor by the California Community College Athletic Association.
SAN MARCOS — Palomar College's Head Athletic Trainer, Flecicia Heise, was named Athletic Trainer of the Year by the California Community College Athletic Association (CCCAA) during a ceremony on Thursday, April 7, 2022.
After nearly 30 years on the job, Heise has arguably attended more matches and games than anyone else at Palomar, having cared for thousands of student athletes in her time. She has been the lead trainer since 2006.
Heise said her job includes a lot of hands-on "care and prevention" to keep all of Palomar's 450-plus athletes healthy and in playing shape, as well as administrative duties to coordinate the program and ensure that all protocols are being met.
She oversees a team of three trainers, plus student interns from CSU San Marcos.
"When I get into work in the morning, we sit down and talk about what the day is going to be about," she said. "It's very fast-paced, and when you're doing this job, you think of the worst but hope for the best. At the end of the game, win or lose, if I was never needed, that's a great game for me—I just get to enjoy watching."
Heise and her team are frequently seen on the sidelines, tending to a wide range of injuries—some of which are occasionally serious—while behind the scenes making sure injury reports are completed, and understanding their needs for different health care providers.
A mother of two, Heise comes from an athletic family. She played softball at Orange Coast, and her daughter Morgan played basketball at Palomar.
Athletic Director Daniel Lynds said that some 112 California Community Colleges participate in athletics—many of them employing two or more athletic trainers.
"Flecicia really is the conscience and the heart of the department—she is so student-first in all of her actions, and she makes sure, even with limited resources, that our students' health is never compromised," Lynds said. "She always has their safety and their best interests in the front of her mind, and she does a world-class job in athletic training. This honor is long overdue."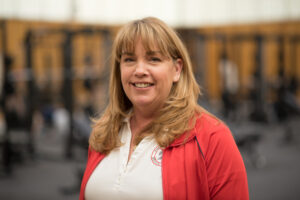 Caring for high-performance athletes is persistently challenging, Heise said. It's always personal, and emotions run high during and after an injury.
But Heise said she has formed many lasting connections with students under her care over the years, and the training room is a nerve center, of sorts, where the college's 16 athletics programs receive some of their most crucial and immediate support.
"Our job is student services—the first word is 'student.' We have to be able to open up, listen, and figure out what's best for the student," said Heise.
On Thursday, during a ceremony in Ontario, Heise received the award that those who know her say has been a long time coming.
For her part, Heise met the news with surprise and characteristic humility: "I don't think I do anything spectacular at my job—I just do my job well, and to be recognized means a lot. I just love what I do, I think that has a lot to do with it."