The team earned a spot in the CCCAA Final Four for the first time in seven years, following a stellar 37-11 season.
SAN MARCOS — The Palomar Comets baseball team reached the state championship tournament for the first time since 2015 after sweeping Saddleback College in a best-of-three series on May 20-21, 2022.
The team traveled to Folsom on Saturday, May 28 to play in the Final Four, which is the state championship series of the California Community College Athletic Association (CCCAA). The midday game was streamed live and the Comets lost to top-seeded Ohlone College 11-5. On Sunday, Palomar's run ended with an 11-10 loss to Folsom Lake College.
"This has been an amazing year for the team," said Palomar College Athletic Director Daniel Lynds. "What a way to finish the year—playing after graduation! It's fantastic."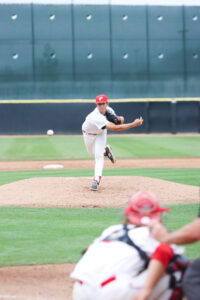 In their last game before the Final Four, the Comets beat the top-seeded team in Southern California, Saddleback College, to complete a two-game sweep. Down 5-0 in the third inning, the Comets scored 10 unanswered runs—including 6 in an explosive 7th inning—to win 10-5 and advance to the Final Four.
"I have watched this team and they play with immense talent and heart," said Palomar's Superintendent/President, Dr. Star Rivera-Lacey. "We are so proud of them, and the entire coaching staff, for this incredible accomplishment."
The Comets finished the season with a 37-13 overall record and earned a Final Four spot for only the third time in the program's history.
The success comes at the end of an emotional season for many in Palomar's baseball program. In January, the college's long-time baseball "patriarch," Bob Vetter—whose 45 years at Palomar included 24 seasons as head coach—passed away suddenly at the age of 71.
"Coach Vetter's passing has given the team a real sense of playing for something bigger than just themselves," Lynds said. "You can see it in the way they play—they're constantly looking to pick each other up. In his memory, they've been able to keep that good, solid, positive mindset."
Meanwhile, said Lynds, Ben Adams, the current head coach, and his staff "have done a great job" navigating a competitive postseason, which has included three winning series so far to reach the final tournament.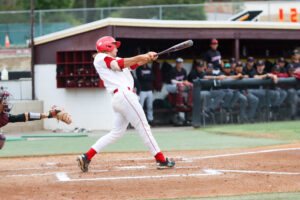 Photos by Palomar College Athletics.