SAN MARCOS — Three days before the beginning of the Spring semester, Palomar College hosted its second annual Social Justice Community Festival, featuring food, music, information and interactive experiences designed to further Diversity, Equity, Inclusion, Accessibility and Antiracism (DEIAA).
The festival was held in the Performing Arts complex of the San Marcos campus on Friday, January 27, 2023, and was attended by more than 100 students, faculty and staff of the College.
"At Palomar, we are proud to have such a dedicated group of leaders who are improving the higher education experience for our students," said Palomar's Superintendent/President, Dr. Star Rivera-Lacey.
"The event is designed to further build an equity-minded community here at Palomar College," said Performing Arts Professor and event Co-Chair Michael Mufson. "I hope this brings awareness to everyone's interactions on campus, as well as a commitment to reaching out to those who might be less engaged and taking systemic action where we see opportunities."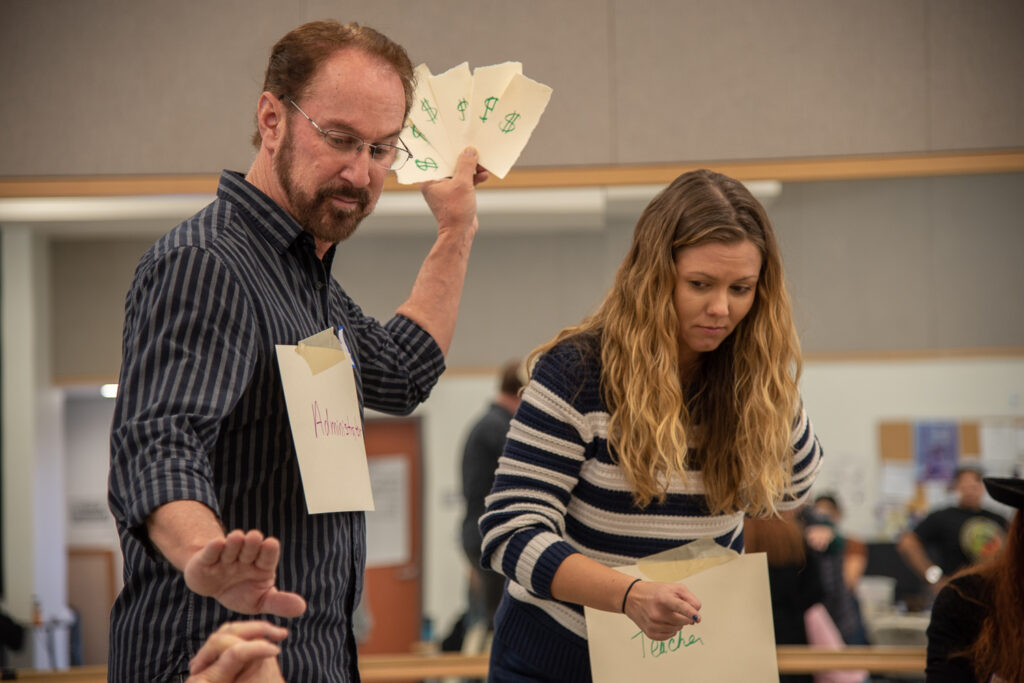 The event offered a variety of experiences for attendees, including a "Human Library" in which storytellers shared their memories, a "Chalk Walk Mural," and a special dance performance by one of Palomar's student dance groups.
"The festival is really about providing information and opportunities for self-examination, so we can move the gauge on these efforts," said event Co-Chair Dr. Sabrina Menchaca.
Menchaca led a group exercise called "Fate of 8" to help attendees recognize possible social biases. In the second-floor dance studio, Mufson led participants in a living sculpture exercise called "Hall of Mirrors" in which participants worked collaboratively to depict the complex diversity, equity and inclusion challenges facing a college community.
Carmelino Cruz, Palomar's Acting Chief Diversity Officer, said the event began in a remote format in 2022, and was greatly expanded this year as a semester kick-off to help the campus community focus on the DEIAA work that is ongoing.
"It's an opportunity for self-reflection, for healing and to learn with an open mind," said Cruz. "It's good to hear stories from not only our students but also our employees. It's good for us all to take every opportunity to come together and learn from each other."