Featuring more than 20 student designers, the annual show was held in the lobby of the Library/LRC at the San Marcos campus.
SAN MARCOS — The popular MODA Fashion Show returned to campus on Wednesday, May 11, 2022 after two years off due to the COVID-19 pandemic, providing guests and online viewers with a glimpse of the vibrant styles that Palomar College students spent months creating.
Hosted and organized entirely by students in Palomar's Fashion Merchandising and Design program, the show was also live-streamed for the first time.
"Congratulations to all of the student designers and event organizers who made this year's MODA Fashion Show possible," said Palomar College Superintendent/President Dr. Star Rivera-Lacey. "MODA is a great example of the incredible creativity of our students and the educational programming available for almost every career interest at Palomar."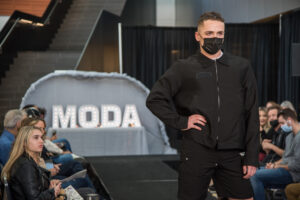 Rita Campo Griggs, Associate Professor of Fashion Merchandising and Design, said that in lieu of a live fashion show, the program has been distributing student work online with video and photo content for the past two years.
"Every year, we hear people saying, 'This is the best show ever,' and it's really nice to hear that," said Campo Griggs. "I really liked the intimate venue, and the librarians were great to work with. Everybody was so accommodating, and I think it turned out to be a good show."
This year's MODA theme was "75 Years of Style: Diamonds are Forever." In addition to the clothing, which is entirely designed and produced by students, the show itself is a student production, staged as the final project in the Fashion Show Presentation class.
"Usually backstage at a fashion show it's just chaos, but it was a well-oiled machine, everything went the way it's supposed to," said Campo Griggs. "The students did a great job coordinating the whole thing."
Following the hour long show, several student designers spoke about their experiences at Palomar College:
Nyame Danso
Last year, Danso traveled to Senegal, the West African country where she was born, and returned with all of the floral material that she used to design her women's collection.
As a result of what she has learned at Palomar, Danso has been invited to design a collection of resort wear for San Diego Swim Week in 2023. She aspires to become a full-time fashion designer, and said it was "surreal" to see her work on the runway at MODA.
"The models looked amazing, and it was worth it, for sure—all the sleepless nights."
Marla Hope
Hope enrolled at Palomar already having a certificate in fashion design and some experience as a designer. She said she attended MODA regularly for 20 years but never participated until this year's show.
"It was amazing, so much fun—I'm not sure why I didn't do it sooner," she said. "The show was very intimate this time."
Jonas Neal
Having started in the Fashion program at Palomar in the height of the pandemic, Neal plans to graduate next year. His collection featured several looks from his own upstart fashion brand, Syndari.
"This was the first time I've ever done a runway show, and it was definitely hectic, leading up to the show, but it was worth every little bit of stress—seeing all of that work go through the runway was amazing," he said.
Oliver Reinard
The youngest designer at this year's MODA, Reinard said he hopes to go to New York and work in the fashion industry there. This spring was his first semester at Palomar, and his MODA collection was inspired by 1990s street and skate fashion.
"Everyone was great in the fashion department," he said. "I was really nervous tonight and didn't know what to expect, but I was really happy with how my collection looked out there."
Alexis Solorio
Last fall, Solorio started sketching the five "looks," or complete outfits, that were modeled during MODA—her first runway experience as a designer.
"At first I was nervous about my pieces, but the models made me feel a lot more confident—the way I saw them wearing it was better than I had pictured," she said, adding that she plans to move to L.A. to pursue a job in fashion, and then join a design school.
"I definitely want to keep designing—and hopefully start my own business. I've loved it here—the whole experience has been really fun and interesting, and I've learned so much."
Anthony Zapata
After three semesters in the Fashion program here, Zapata has an apprenticeship lined up in Los Angeles. He titled his MODA collection "Rebirth," and said his design was inspired by his experience changing majors from science to fashion "after realizing it was what I actually loved to do."
"My hobby had been fashion, but I never had any hands-on experience. Sewing was the hardest thing for me to learn," he said. "This is definitely what I want to do for the rest of my life."