The American Association for Women in Community Colleges also honored Dr. Jack Kahn, and Palomar named Amber Colbert its inaugural Empowered Woman of the Year.
SAN MARCOS — During a virtual recognition event on Wednesday, May 12 attended by more than 180 people, four women on staff at Palomar College were honored as "Women of the Year" by the American Association for Women in Community Colleges (AAWCC).
The awardees were Student Trustee Rachel Alazar, STEM Center Supervisor Dr. Mireya Gutiérrez-Agüero, Director of Public Affairs Julie Lanthier Bandy and Professor Mercedes Tiggs. They joined dozens of other women from around the AAWCC's Region X—representing San Diego County—in receiving recognition for their work.
According to a statement from the AAWCC, "Each year women at each of the Region X colleges are recognized for making a difference at their campus and in the communities they serve. This award is an annual recognition for leaders … who are contributing outstanding efforts and empowering other women."
In addition, Dr. Jack Kahn, Palomar's Interim Superintendent/President, was presented with the "Male Who Supports Women Award."
"Dr. Kahn has continuously elevated women on our campus and region," said Hossna Sadat Ahadi, a Palomar College faculty member and counselor who helped coordinate "Women of the Year" nominations from the college.
"Our campus had the highest number of nominations in all of Region X, which indicates how we recognize and elevate women at our college," said Sadat Ahadi.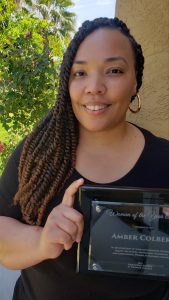 The previous week, Assistant Professor Amber Colbert was named the inaugural Palomar College Empowered Woman of the Year, which honors a woman who exemplifies leadership in Diversity, Equity, Inclusion and Antiracism at Palomar.
The founder and leader of the Palomar Black Faculty Staff Association, Colbert was nominated by several colleagues. She coordinated the inaugural celebration of Black graduates at Palomar College, co-coordinates the Umoja program, and is a member of the Empowered Women affinity group on campus.
"This is such an honor and I am thankful to work alongside such amazing colleagues, mentors, and friends here at Palomar," Colbert wrote in a statement. "This past year has been such a challenging one, but we have risen to the call for true social change, justice, and equity for our students, community and one another. It is truly humbling to take part in this work.
Rachel Alazar
"As a young student leader at Palomar College I have had the splendid opportunity of working with faculty, staff, and fellow students of the community in shaping the direction for the future women in community college. I feel honored to have been awarded as one of the SDAAWCC Region X Women of the Year. I could not have come this far without the support of the Palomar College community."
Dr. Mireya Gutiérrez-Agüero
"I've always been intrigued by powerful women who uplift other women, and I feel honored to receive the AAWCC Women of the Year Award at Palomar College. I want to congratulate every single woman who was nominated, and I encourage all the women to continue to support and encourage one another especially during these times of so much ambiguity. I will continue to be guided by a framework of antiracism, equity and inclusivity in all the work that I do to advance student access and success. As I reflect on women leadership, I hope we can all ponder on the Mayan greeting In Lak'ech which means you are my other me. May we uplift each other to greatness."
Julie Lanthier Bandy
"I am incredibly honored to receive this award and feel so grateful for the recognition of my peers. Our work in education, especially during these challenging times, is so important. I have spent my entire career mentoring women and men to achieve their goals, and contribute to society at the highest levels. This award is an ode to them and their collaboration while working together to achieve common goals."
Mercedes Tiggs
"It's such an honor to represent Palomar College alongside my esteemed colleagues. The work we do is never about us, but those who have come before and will come after. Empowered women, empower women."