Long-running photography exhibition at the Escondido Municipal Gallery incorporates wide range of styles, methods.
ESCONDIDO — Across a maze of brightly-lit walls in the Escondido Municipal Gallery, the photographs tell a story of hard work and long hours in the lab—but also the joy of discovery.
The annual Palomar College student photography show, "Enlightened Lens," arrived this month at the downtown gallery, featuring 70 photographs from 45 students who studied and produced images at Palomar in 2017.
"This is the first show I've been in, and just seeing my pictures hung next to everybody else's art is awesome," said Tristin D'Ambrosi, a second-year photography student. "Even seeing them in frames is just unbelievable. It adds so much more to the experience."
Photography instructor Donna Cosentino, who organizes the juried show every winter, said Palomar has a long tradition of hosting student exhibitions off-campus.
"I don't know of any other school that takes students' work out into the community like this," said Cosentino. "That was my idea from the beginning."
Enlightened Lens photography exhibition
Open 11 a.m. to 4 p.m., Tuesday, Thursday, Friday and Saturday through Jan. 6. Free admission. Escondido Municipal Gallery, 262 E. Grand Avenue.
In mid-January, the show will travel to the Hearth Gallery in San Marcos and remain open to the public from 8 a.m. until 7 p.m., Monday through Friday, through the end of February. The Hearth Gallery is located in the community center at 3 Civic Center Drive, San Marcos.
Emily Kim, one of Cosentino's students whose photograph was chosen for the "Enlightened Lens" poster, said that she appreciated the opportunity to "hang" her work in a public gallery.
"Donna's done an amazing job," said Kim. "To have a juried show like this is pretty great."
An architect by trade, Kim said she takes one photography class every semester: "Palomar College has a darkroom facility, so you can still shoot film and make your own prints. It's pretty amazing to be able to do that.
"Palomar has helped me figure out if this is what I want to do—if I have the talent to pursue it," she added.
Cosentino said the idea of the exhibit has always been to represent the diversity of student photographers at Palomar. In keeping with that theme, there are at least a dozen different processes and methods of development in the show, including some that are highly unique and experimental.
"The show is a mix of absolute, first-semester beginning students … all the way up to students who have been here for a couple of years, are advanced and well-versed with their medium," she said.
Launched in 1990, the annual exhibition was held in various locations around North County before settling at the Municipal Gallery 12 years ago.
"They're lovely people and the space is just gorgeous," Cosentino said of the gallery in downtown Escondido. "We have two beautiful rooms there, plus extra walls. The gallery is wonderful."
This year, the show was judged by Palomar College professors Cosentino, Amy Caterina and Judith Preston. After it wraps up on Jan. 6, "Enlightened Lens" will travel to the Hearth Gallery in the San Marcos Community Center, and then on to the Vista Civic Gallery in the summer.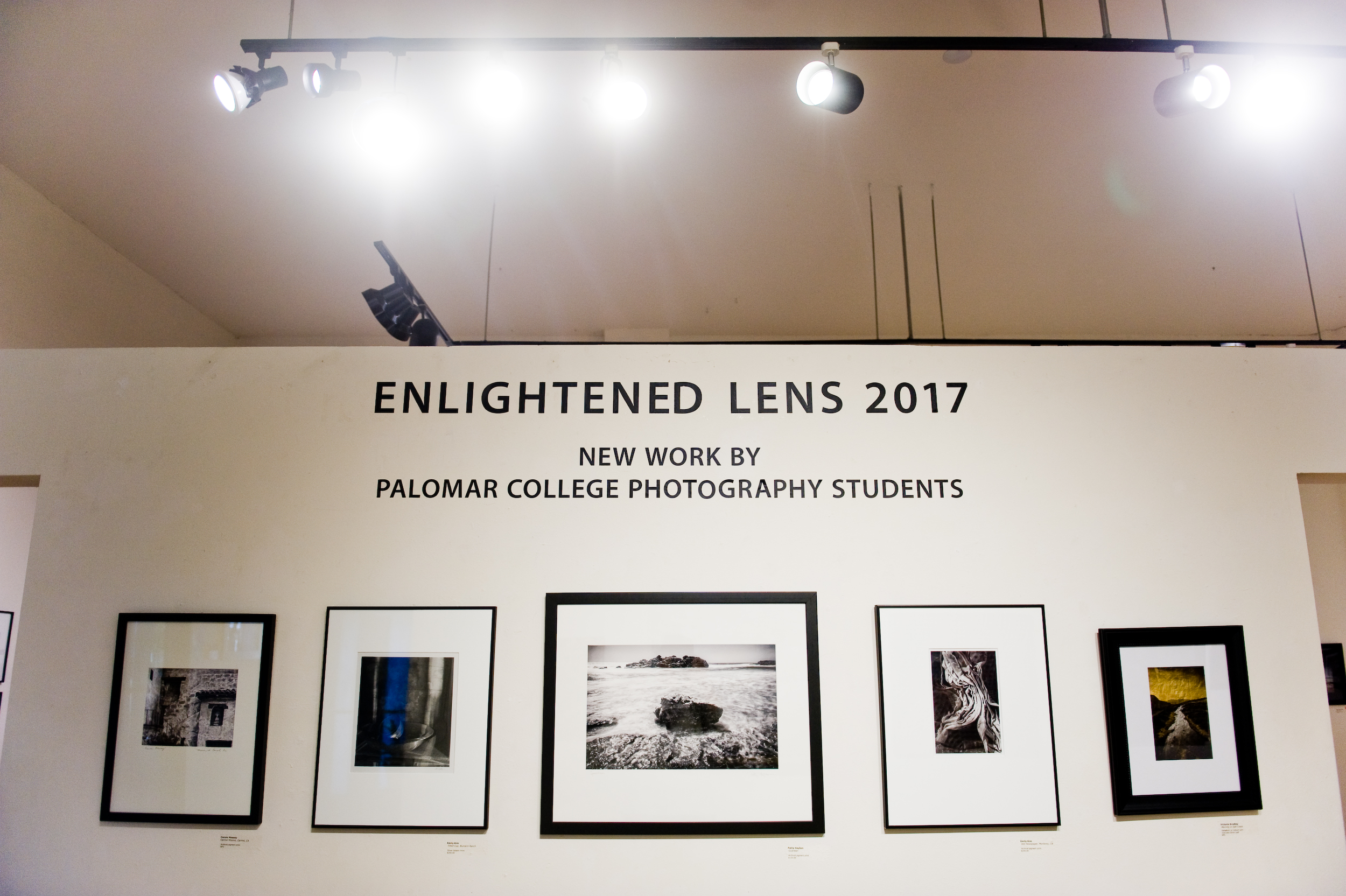 Although it represents a lot of work at the end of the semester, Cosentino said it's rewarding to see the students' best images in one place: "It's exciting to see the light go on and see the work come out of them."
Viewed together under one roof, the "Enlightened Lens" work forms a cohesive body that hints at a kind of creative community in Palomar's photography department.
D'Ambrosi described it as "a big family."
"The instructors are super nice, the lab techs are amazing," he said. "I love it."