With the implementation of a digital system utilizing license plate scanners, the Palomar College Police Department has modernized campus parking enforcement.
Pictured above: Lead CSO Dominic LaPorta of the Palomar College Police Department checks parking permits inside one of two cruisers outfitted with new license plate readers.
SAN MARCOS — During the first week of the fall semester at Palomar College, some 9,000 students had bought parking permits, but virtually no one put a placard in their windshield when they arrived on campus.
Meanwhile, in front of the Palomar College Police Department (PCPD), the usual long lines were gone.
And, in the college's vast blacktop parking lots, the parking enforcement staff in bright blue shirts who once patrolled on foot were nowhere to be seen.
What happened instead was a rapid shift in which the campus community embraced a new digital parking system that has already saved the PCPD significant labor and costs, and saved students the headache of using placards.
"It's a game changer," said Palomar College Chief of Police Chris Moore. "It's really brought us into the 21st century. We're saving money in infrastructure costs, money in staff costs, money in maintenance costs. We're making our systems more efficient and improving our processes."
Permitted parking at Palomar College, like all campuses at one time, used to be a matter of hanging a current placard in the windshield. Then, in the familiar routine, the Police Department's Community Service Officers (CSOs) would walk the parking lots—sometimes braving heat and rain—to enforce the college's parking regulations.
No more.
As of this semester, students, faculty and staff are buying their permits online, registering up to five license plates (only one registered vehicle per user is allowed on campus at any given time), and paying via secure web portal—all without standing in line.
And officials say the best part for Palomar commuters is that, after registering, they don't even need to think about their permit, since a registered license plate is a valid permit to park on campus.
Meanwhile, the CSOs scan the parking lots using two police cruisers outfitted with license plate readers, which are connected to terminals that flag unpermitted license plates.
It's easier for the user, it's easier for the police, and it saves the college money, Moore said.
"Every year, we would spend money on postage and sorting to hand-mail literally thousands of permits," he recalled. "We were spending money on postage, and hundreds of staff hours putting a permit in an envelope, addressing it to a student or staff member, and mailing it to them. This has eliminated all of that."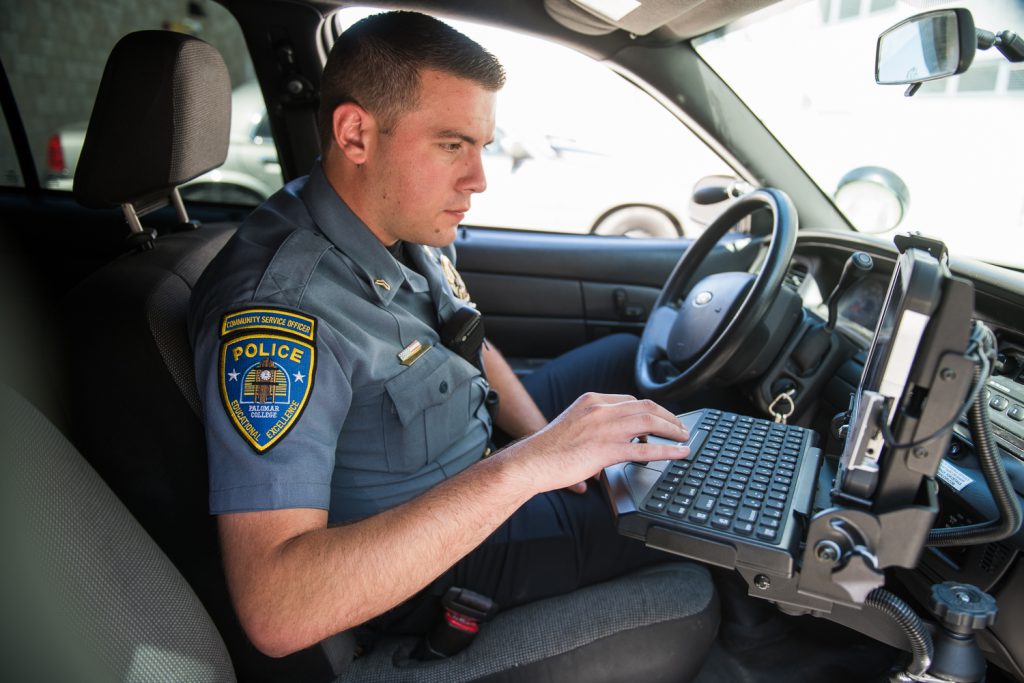 Lead CSO Dominic LaPorta said that, for the parking enforcement personnel, the new system has made patrolling the lots for unauthorized vehicles exponentially easier.
"It's made parking enforcement more efficient," said LaPorta. "In the past, we've spent much more time enforcing parking, and now we can spend the time we're saving on other things—community relations, talking with students, staff and visitors."
Along with the student and staff permits, the college also adopted a new system for temporary parking, that allows temporary visitors to buy an hour or a day of parking at a time using the smartphone app ParkMobile.
Moore said that between the new parking structure and the modernized digital permit system, the parking experience at Palomar has drastically improved for students and employees.
"A student can buy their permit in the middle of the night or on a weekend, for example, and I have not seen more than three or four people in the cashier's line—and there used to be 100 students in line the first two weeks of school," he said. "I did not receive one call during the first week of school about parking, and the overwhelming majority of feedback we've received has been how easy it is now."
Student permits cost $46 and are available through the online student portal.