Haben Girma, honored by heads of state and named a White House Champion of Change by President Barack Obama, urges the importance of access to higher education.
SAN MARCOS — The award-winning author and advocate Haben Girma spoke on overcoming ableism and signed copies of her book, "Haben: The Deafblind Woman Who Conquered Harvard Law," during a visit to Palomar College on Monday, March 14, 2022.
The first Deafblind graduate of Harvard Law School, Girma visited Palomar to host a hybrid in-person/virtual event that provided off-site access via Zoom for those who could not attend in person.
Girma shared a variety of personal anecdotes, such as learning to surf, looking for work in Juneau, Alaska, meeting President Obama, and attending Harvard Law.
"There's a myth that there are two types of people—dependent and independent. But that's not true, we're all interdependent," she said. "Inclusion is a choice—it's the small and big decisions we make to make our communities more inclusive, and when you choose inclusion, you model it for everyone else around you."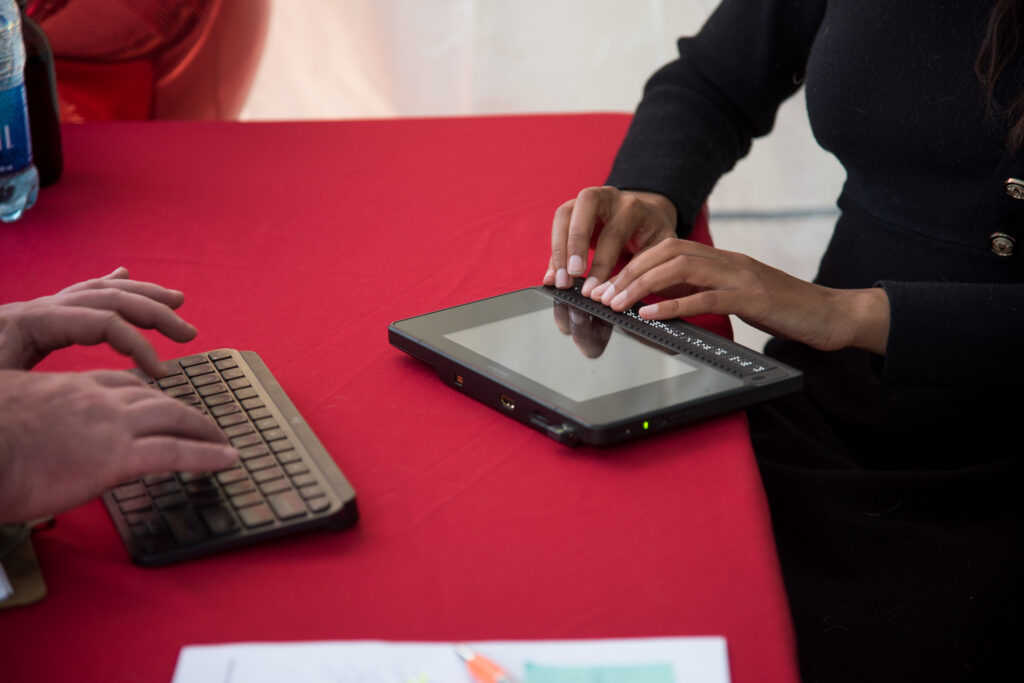 The early evening event, entitled, "Disability & Innovation: A Conversation with Haben Girma," was held at the Brubeck Theatre and co-hosted by the Disability Resource Center (DRC) at Palomar College and MiraCosta College's Student Accessibility Services (SAS) department.
"It is an honor to hear from Haben this evening about breaking down barriers and the importance of investing in accessibility," said Superintendent/President Star Rivera-Lacey. "I've been a fan of Haben's for a long time. Thank you to our colleagues in the DRC at Palomar, as well as the Student Accessibility Services team at MiraCosta College—it's because of their dedication that this event is possible."
During her time in Alaska, before discovering her passion for law and advocacy, Girma said she had trouble finding work, even though her resume was strong and she had no problem getting interviews.
"These were tactile jobs, they did not require sight—washing dishes, folding laundry," she said. "These employers assumed a Deafblind person couldn't wash dishes. And if I couldn't get a job as a dishwasher, what else would I be able to do?"
Later, with an interest in surfing, she was told, "We've never heard of a Deafblind surfer." As she told the story on Monday, a video of Girma surfing played on the screen above her head.
Of her time in the Ivy League, Girma recalled her first encounter: "They told me, 'We've never had a Deafblind student at Harvard Law School before.' I told them, 'I've never been to Harvard Law School before.'
"If you've never had a disabled person in a program, that's a sign there are barriers—barriers to access, such as stairs, or social barriers," she told the audience at Palomar, which included many students and educators. "So look for barriers at all levels, and do the work to remove those barriers so we can have inclusive communities."
During her presentation, Girma also demonstrated the technology she uses to communicate and engage with audiences—including her interactive braille computer.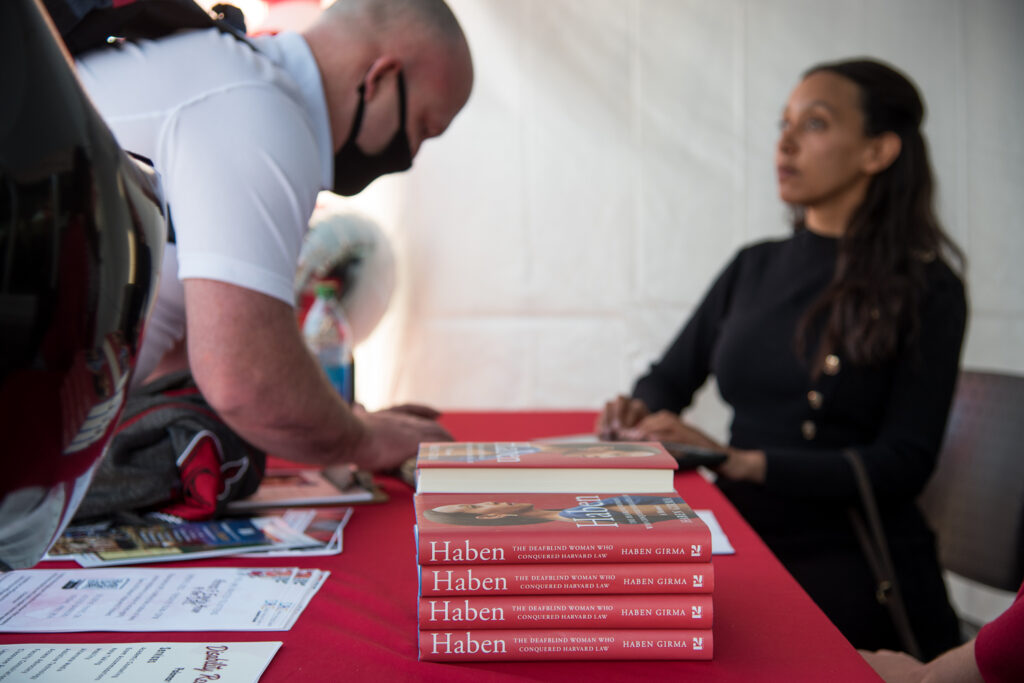 "Haben is a true champion of disability justice, and we are honored to have her with us tonight," said Shauna Moriarty, Director of the DRC at Palomar.
Before heading outside to sign books and pose for pictures with students, Girma challenged her audience to be agents of positive change: "Many disabled people don't like the word 'inspiring' because it's often a disguise for pity," Girma said. "But I don't mind the word 'inspiring' when it's used for action. What are you inspired to do?"