April Woods, who taught and counseled at Palomar College for 25 years, lost her battle with cancer in 2017. Now there is a travel scholarship in her name, thanks to a $100,000 bequest to the Palomar College Foundation.
Pictured above: Melissa Grant holds a photo of April Woods.
SAN MARCOS — For two and a half decades, April Woods was a steadfast student advocate at Palomar College, a counselor and educator who dedicated herself to helping others pursue their goals, leaving her mark on many lives and forging countless friendships at Palomar.
As of this year, her legacy will also live on in the form of the April Christine Woods Memorial Scholarship, a $100,000 endowment to support students who want to travel as part of their educational journey.
In 2016, Woods was diagnosed with Stage 4 lung cancer. Four months after her diagnosis, in March 2017, Woods passed away at the age of 51.
"She could help a student know what to do, from the moment they walked into Palomar until they were ready to transfer," said Melissa Grant, one of Woods' closest friends and an employee at the college. "She didn't just give students a quick run-through, she told them what they could expect, from start to finish.
"April believed that everybody had their own purpose," Grant added. "Everybody was worthwhile, in April's eyes. And she had a love for education that she loved to share with other people. It was contagious."
On Tuesday, Feb. 12, the Palomar College Governing Board honored Woods, as Stacy Rungaitis, Executive Director of the Palomar College Foundation, accepted a $100,000 check to establish the scholarship in Woods' name.
Grant said the scholarship will award up to $10,000 per year, up to $1,000 per student, and can be divided in smaller amounts among as many students as necessary.
Recipients must be enrolled at Palomar during the semester awarded, and the funds must be used for student travel within six months of application for the purpose of "enhancing a student's educational objectives." The travel doesn't have to be part of an official study-abroad program, Grant explained, but it does have to have an educational purpose, set forth in a required short essay.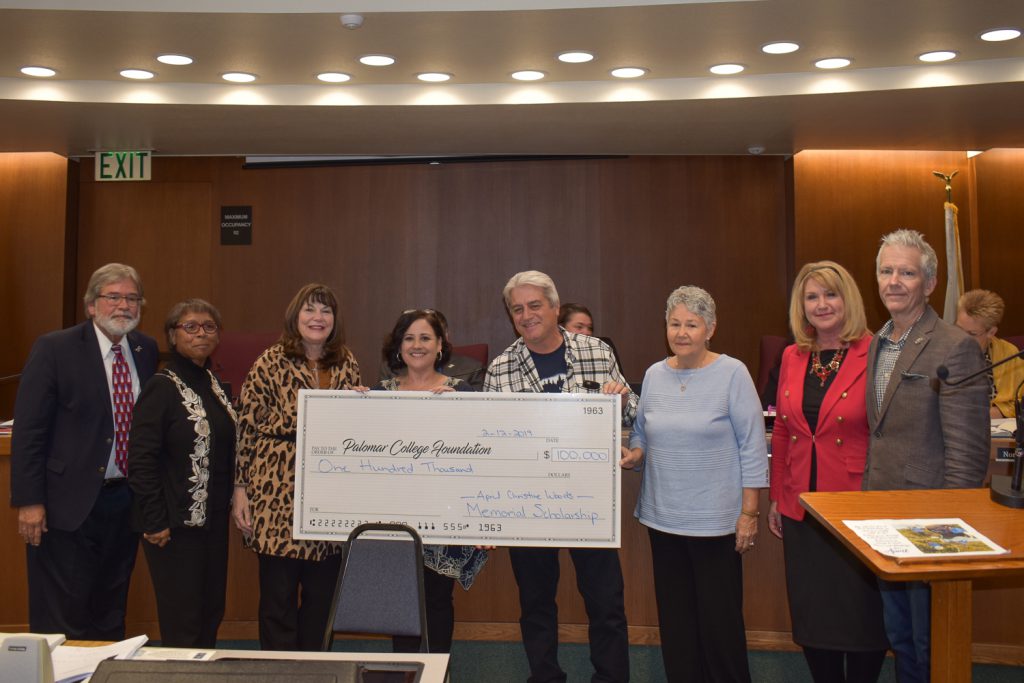 Woods' husband, Jerry Vetack, said he was glad to see her being recognized for her accomplishments and generosity. The theme of the scholarship, he said, reflects Woods' own passion for travel—and for the importance of travel in a life of learning.
"April traveled as a student," he said. "She went to Spain and Mexico and … had always thought about those trips as very valuable to her to become fluent in Spanish. Whenever she had a free moment, she traveled."
Woods also loved students.
Vetack recalled one telling moment during a trip to Paris, riding to one of the city's museums.
"She heard four students near us talking about college, and of course, April being who she was, she started talking to them about their majors, what they should do, and so on," he said. "She actually exchanged emails with these students."
Palomar alumna Monique De Monte remembers the first time she met Woods, in 1998: "I was walking around campus with my son in the stroller, and I saw her at a table the counselors had set up. She helped me select my classes, and thanks to April, I went on to obtain a bachelor's degree at Cal State San Marcos, and a master's from San Diego State."
De Monte said it was fitting that there will be a scholarship at Palomar College from now on with Woods' name on it.
"Palomar was a big part of her life, and it doesn't surprise me at all that she left $100,000 for scholarships," she said.