Information on Math Center Bridge to College Mathematics (NBASC-901)
This course will help students review the topics from their remedial mathematics courses (Pre-algebra, Beginning Algebra, Intermediate Algebra, Basic Statistics and Basic Geometry).
Students may review one or more topics as needed.
Students may do the review all in one stretch or at multiple periods during the semester.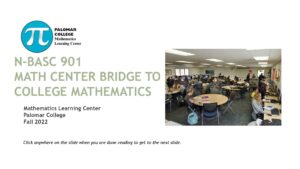 ↑↑ Click to view PowerPoint ↑↑