The Library website is the place to go for reliable information at Palomar College, and we're constantly adding digital content in all subjects. Check out the hundreds of new online e-books and streaming media available to Palomar students: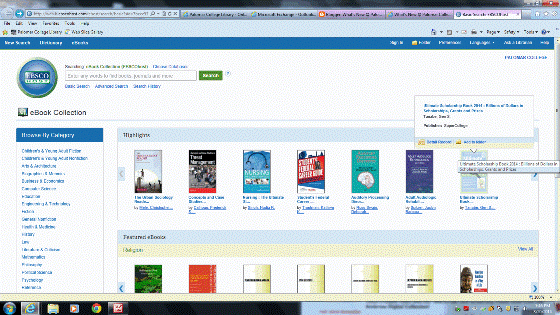 Gale Literary Criticism Online
This contains the complete online sets of the acclaimed Gale literary reference series: Nineteenth Century Literary Criticism, Twentieth Century Literary Criticism, and Contemporary Literary Criticism, and are current through 2014.
New and updated editions of 'book' reference content have been added to this e-book collection, including multi-volume encyclopedias, biographical sets, and specialized sources. Subjects covered include arts and humanities, biography and genealogy, business and industries, general and consumer interests, government and political science, health and medicine, law, science and technology, and social sciences.
Hundreds of new and current ebooks covering subjects taught at Palomar College have been added to both these online book collections.
This comprehensive online reference source includes complete and current content from the renowned World Book Encyclopedia, as well as additional multimedia, e-book, and primary sources.
Ambrose Streaming Videos
Ambrose offers viewers over 100 current, educational streaming videos covering a variety of social science and historical topics.
Access these and other library e-resources by clicking their names above, or from the Library
homepage
(click the Database link). Palomar eServices login required off-campus or on campus wi-fi. Need help? Call (760) 744-1150 x2616 or "Ask a Librarian" through our 24/7 live chat service (look for the chat box on most
library webpages
). For more information, contact
Tamara Weintraub
, Collections Management Librarian.