Palomar College Library works hard to provide access to current books and DVDs that students and faculty can use to keep abreast of their field of study. The New Arrivals area is located near the entrance of the library. It is a space where a small number of our new books and media are temporarily shelved as a way to showcase new purchases. You will find emerging ideas, interests, and perspectives from authors that represent many fields of higher education.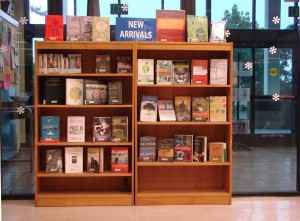 You will also find resources that fall outside the realm of academia; books and media that have some significance due to their timeliness, or local or visual appeal. Among some of the genres are critically-acclaimed fiction; beautifully illustrated books on art, architecture and fashion–we even have graphic novels and nontraditional children's books. This collection is updated on a continuous basis, so you never know what you will find!
Additionally, we have many documentaries and popular movies to choose from that you can borrow for FREE.
We want to catch your attention; we want to entertain, to surprise and to delight you with what is featured. Browse the shelf to see if you get inspired! You may walk away with a book about a potential hobby, or with a book that addresses the issue you just had a debate about in class.
This small sampling of the library's collection is an invitation from the library to you. We hope you explore the library's vast resources. Be sure to stop by the New Arrivals area the next time you are in the library.