Looking for ebooks? Palomar students and faculty can borrow thousands of non-fiction ebooks for FREE from the Library. As with our print collection, ebooks can be used for research papers or other class assignments, and can be read on most computers, smartphones, or tablets.
There are a few ways to get a Palomar Library ebook. Start at the
Library homepage
 and choose either 
Catalog
or
Articles
:

Downloadable ebooks on all topics: click Catalog, and then type subject, author, or title into search box that displays:


Business and information technology ebooks: choose Articles, then select Sci. & Tech. tab on next screen, and scroll down to click Safari Tech Booksdatabase:


e-Reference books on all topics: also choose Articles, then Reference tab, and select either Credo Reference or Gale Virtual Reference Librarydatabases:

Once you've found the book you want, start reading!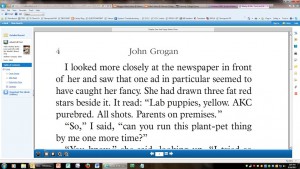 Note that "check-out" times vary (depending on the publisher), and may expire before you're actually done reading the ebook. But, you can always check it out again. Also, the book you want may be "in use" by someone else, and not available – just check back later.
An Internet connection is required (off-line reading of some ebooks is available), and you must use your Palomar eServices login to  access ebooks off-campus or on the campus wi-fi. For assistance, go to the Library Technical Helppage, call us at (760) 744-1150 x2616 during business hours,  or use the "Ask a Librarian" 24/7 live chat service available from most library webpages.