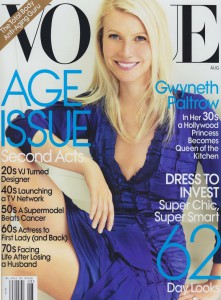 "Cover: Vogue." Vogue. Aug 01 2010.
ProQuest. Web. 13 Sep. 2013 .
Palomar College has acquired Vogue archives online, a searchable digital collection of the American edition of this iconic fashion magazine. Students and faculty may view high-resolution full-color page images of the complete publication from 1892 to the latest issue. The archives are hosted on the Library's familiar ProQuest database system for easy searching.

Every page, including covers, photo spreads, advertisements, and fold-outs are included. Users can look for images and articles by unique features such as company/brand names, designers, photographers, stylists, colors, materials, hair and make-up artists, models and other personalities, fashion trends, and other elements such as garment type or detail, accessories, and cosmetics.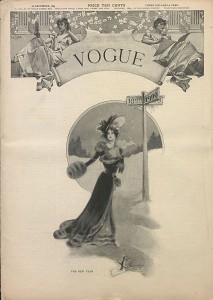 "Cover: Vogue." Vogue. Dec 28 1899.
ProQuest. Web. 13 Sep. 2013 .
Print issues of Vogue from 1968 to the present are also available at the San Marcos campus library, and the Escondido Center Library has the most recent 6 months. Check the Library catalog for specific holdings.
Access the digital archive by clicking the link above, or go to the Library
homepage
(click Catalog, type Vogue in the search box, and click periodical title button). Palomar eServices login required off-campus or on campus wi-fi. Need help? Call (760) 744-1150 x2616 or "Ask a Librarian" through our 24/7 live chat service available from most
library webpages
. For more information, contact
Tamara Weintraub
, Collections Management Librarian.