New Students

Prospective Students
Simple Enrollment
Step 1: Apply and Activate
Step 2: Apply for Financial Aid
Step 3: Launch Your Success
Step 4: Review Your Placement and Develop an Ed Plan
Step 5: Register and Pay for Classes
General Resources

Current Students

Student Resources
Campus Life
Health and Safety
Student Support Programs

The October Issue of CampusWell is here!
October 2, 2019 - October 3, 2019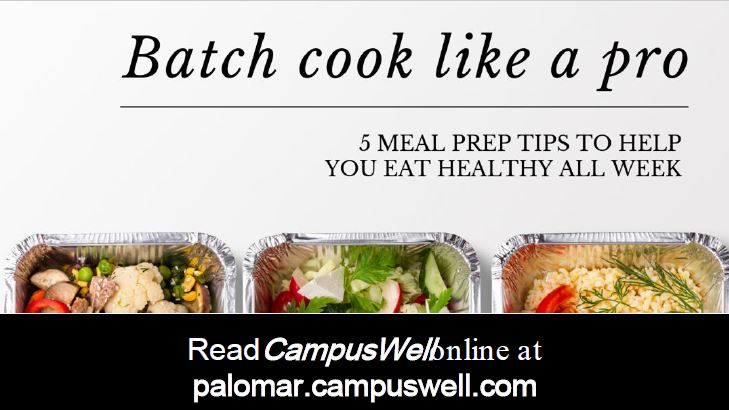 This week in CampusWell…
Gear up! What to wear when exercising in cold, heat, rain, or snow
http://palomar.campuswell.com/staying-active-no-matter-the-weather
Batch cook like a pro: 5 meal prep tips to help you eat healthy all week
http://palomar.campuswell.com/batch-cooking-meal-prep-tips
Ask the counselor: "How do you differentiate normal sadness from clinical depression?"
http://palomar.campuswell.com/ask-counselor-sadness-or-depression
Palomar Resources & Bulletins:
http://palomar.campuswell.com/category/campus
Share your feedback & you could win 1 of 5 $50 Amazon gift cards!
http://palomar.campuswell.com/enter-to-win
Thanks for your time,
Palomar College
Student Health Centers
Phone: 760-891-7530

What are you looking for?
A - Z Index