New Students

Prospective Students
Simple Enrollment
Step 1: Apply and Activate
Step 2: Apply for Financial Aid
Step 3: Launch Your Success
Step 4: Review Your Placement and Develop an Ed Plan
Step 5: Register and Pay for Classes
General Resources

Current Students

Student Resources
Campus Life
Health and Safety
Student Support Programs

Skillshop: "The Best Seat in the House is Smoke-Free"
September 5, 2019 @ 5:00 am - 6:00 am PDT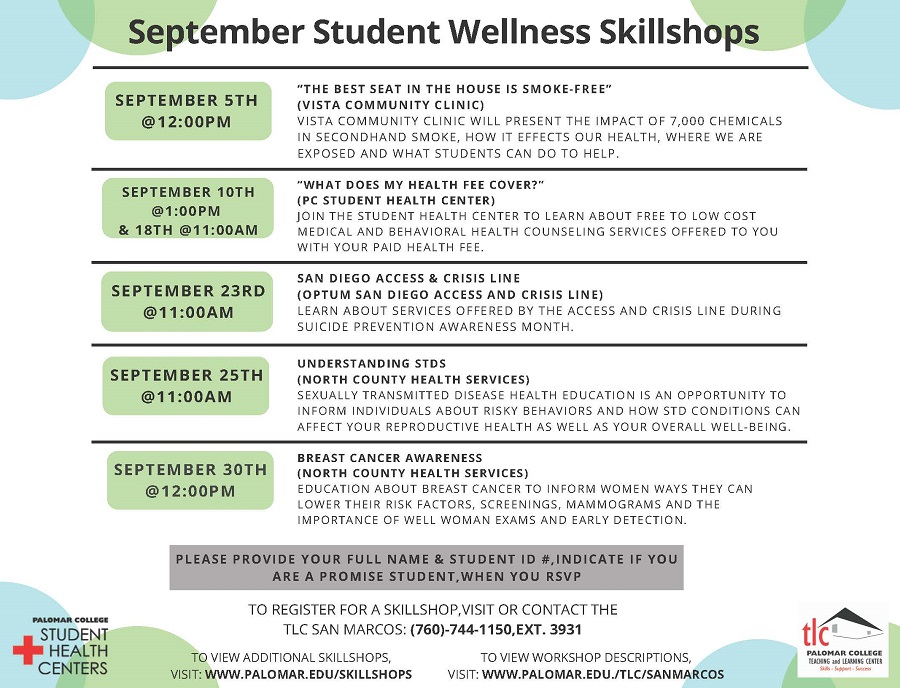 "The Best Seat in the House is Smoke-Free"
Please join Vista Community Clinic for this Skillshop on September 5th @ 12pm! Vista Community Clinic will present the impact of 7,000 chemicals in secondhand smoke, how it effects our health, where we are exposed and what students can do to help.
To register for a skillshop, visit or contact the San Marcos TLC: (760) 744-1150, ext. 3931.
What are you looking for?
A - Z Index