New Students

Prospective Students
Simple Enrollment
Step 1: Apply and Activate
Step 2: Apply for Financial Aid
Step 3: Launch Your Success
Step 4: Review Your Placement and Develop an Ed Plan
Step 5: Register and Pay for Classes
General Resources

Current Students

Student Resources
Campus Life
Health and Safety
Student Support Programs

Self-Care Workshop
September 17, 2020 @ 3:00 pm - 3:30 pm PDT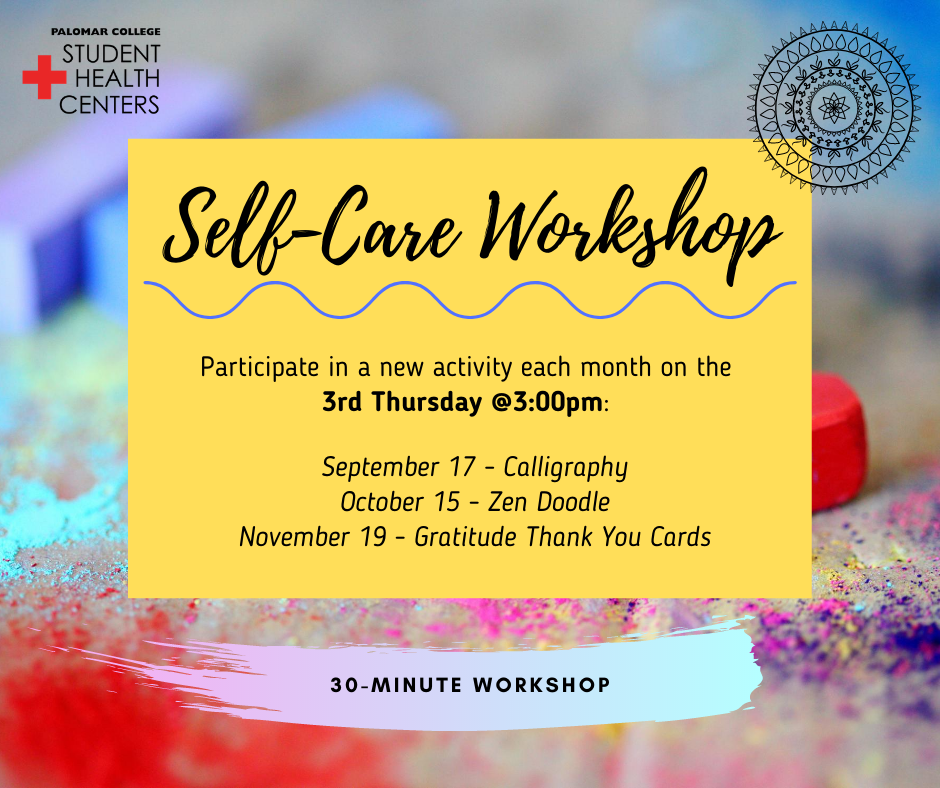 Comets: Get creative with us and take a break from class …
Grab some markers & paper and join the health care team on the 3rd Thursday of the month at 3pm for our interactive Self-Care Workshop where we will have fun with arts & crafts!
 Participate in a new activity each month:
September 17 – Calligraphy
October 15 – Zen Doodle
November 19 – Gratitude Thank-You Cards
To register:
Please make sure to use your Palomar e-mail to sign-up for our September 17th workshop: http://ow.ly/sOZz50Bf6YW.
We will provide the Zoom workshop link to your Palomar e-mail ONLY. If you have questions, feel free to e-mail the Student Health Center at: studenthealthcenters@palomar.edu.
What are you looking for?
A - Z Index