Read Student Health 101 today!
August 15, 2017

-

August 16, 2017
Palomar students,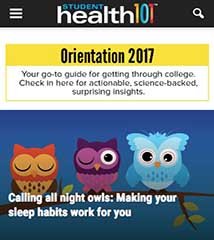 We're looking forward to seeing you in the new school year!
As part of your orientation, you're encouraged to read Student Health 101, your go-to guide for getting through school.
Please read the articles and fill out a short feedback survey (found at the end of the articles) for a chance to win $1,000.
Bonus: Register to see more awesome content from Student Health 101, and for more chances to win big!
Calling all night owls
Making your sleep habits work for you
Happy spending
How to budget for a better you
Quiz: What's your bystander style?
FitnessU
Pairing up to sweat it out
We'd love to hear your thoughts, comments, or suggestions about Palomar Student Health 101!
Take good care,
Palomar College
Student Health Centers
Phone: (760) 744-1150, extension 2380
lschalkle@palomar.edu
https://www.palomar.edu/healthservices/