New Students

Prospective Students
Simple Enrollment
Step 1: Apply and Activate
Step 2: Apply for Financial Aid
Step 3: Launch Your Success
Step 4: Review Your Placement and Develop an Ed Plan
Step 5: Register and Pay for Classes
General Resources

Current Students

Student Resources
Campus Life
Health and Safety
Student Support Programs

National Campus Safety Awareness Month Event
September 24, 2019 @ 4:00 am - 6:00 am PDT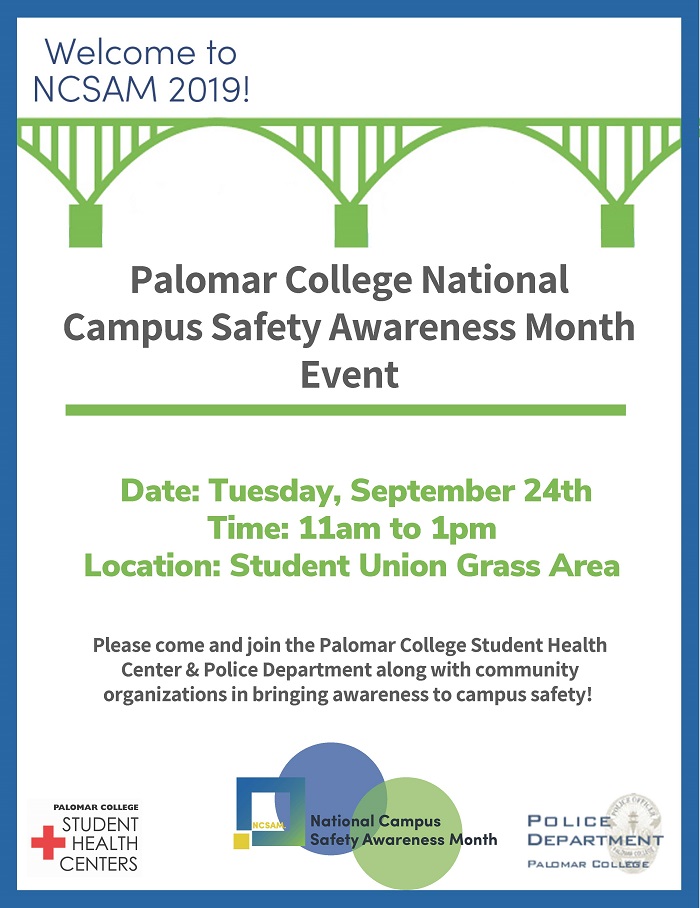 It's National Campus Safety Awareness Month (NCSAM)!
Attend the Palomar College NCSAM Event on Tuesday, September 24th from 11:00am to 1:00pm in the SU Grass Area to learn how we can work together with the Palomar College Police Department and Student Health Center to promote campus safety.
Various teams exist on campus to help students in crisis. Learn more about ours during this event and how to make a report for a friend you're concerned about.
We all have a role to play, whether it is big or small—you can be the person that makes connections on campus to advance campus safety prevention and response.
#NCSAM19 #CleryBridge
What are you looking for?
A - Z Index