New Students

Prospective Students
Simple Enrollment
Step 1: Apply and Activate
Step 2: Apply for Financial Aid
Step 3: Launch Your Success
Step 4: Review Your Placement and Develop an Ed Plan
Step 5: Register and Pay for Classes
General Resources

Current Students

Student Resources
Campus Life
Health and Safety
Student Support Programs

Courage Camp
April 30, 2021 @ 12:00 pm - 1:30 pm PDT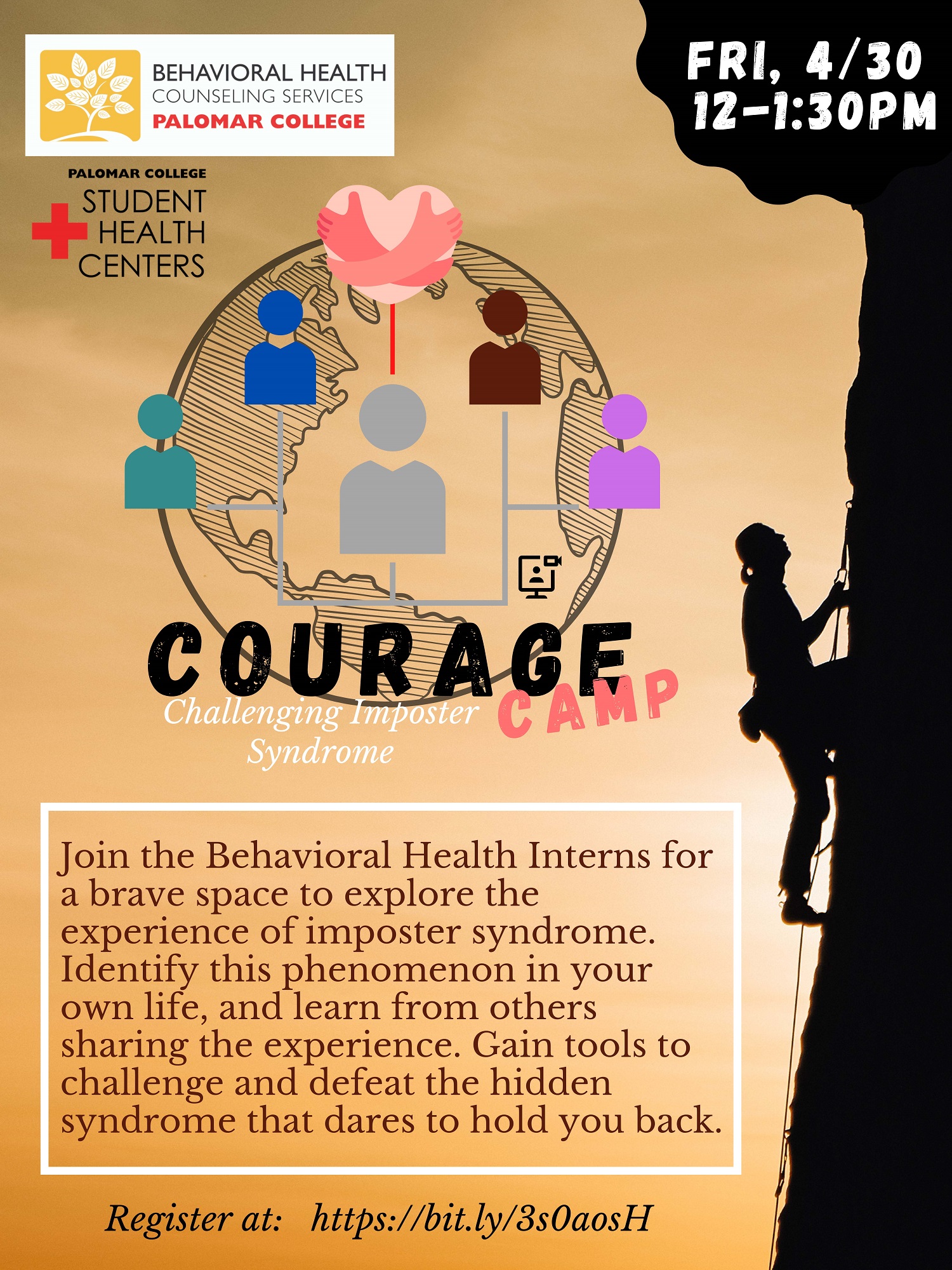 Join the Behavioral Health Interns for a brave space to explore the experience of imposter syndrome. Identify this phenomenon in your own life, and learn from others sharing the experience. Gain tools to challenge and defeat the hidden syndrome that dares to hold you back.
*The BHCS interns are committed to protecting the privacy of all participants. While the hosts will keep information shared in the meeting private, fellow participants hold the autonomy to share information at will. Therefore, the hosts ask all participants to please be mindful of the privacy of others, and to please NOT share the information of fellow campers with folks outside of Courage Camp. Please respect each other in and out of Camp, and allow each other the freedom to be anonymous.
Registration
**Registration is required for attendance to Courage Camp. Please use your Palomar email to RSVP for courage camp, and view your junk/spam folders if the confirmation email does not readily appear in your inbox. Use the link in the confirmation email to attend the event. You may email jhartman@palomar.edu if you experience technical challenges the day of the event.
What are you looking for?
A - Z Index