New Students

Prospective Students
Simple Enrollment
Step 1: Apply and Activate
Step 2: Apply for Financial Aid
Step 3: Launch Your Success
Step 4: Review Your Placement and Develop an Ed Plan
Step 5: Register and Pay for Classes
General Resources

Current Students

Student Resources
Campus Life
Health and Safety
Student Support Programs

Zoom Skillshop: Stress Management
May 6, 2020 @ 8:00 am - 9:00 am PDT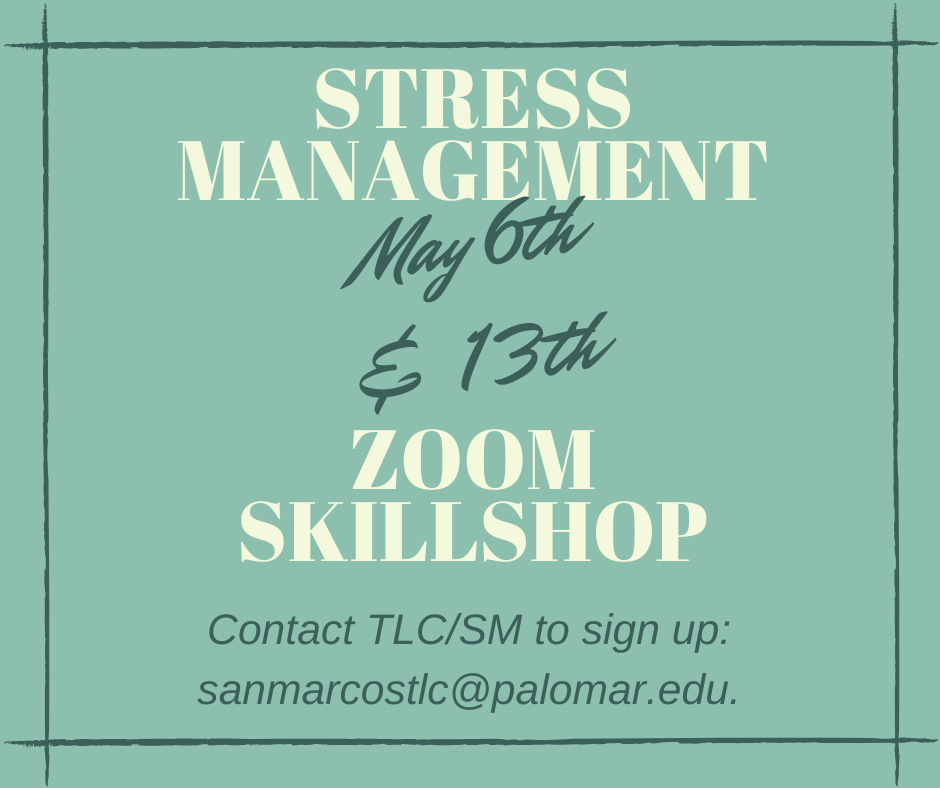 The Student Wellness Advocacy Group (SWAG) is offering a Zoom Skillshop on Stress Management!
Join us for an hour of relaxation as we teach you a few stress management and coping techniques to utilize whenever you are feeling stressed or  overwhelmed. Walk away feeling empowered and rejuvenated!
To sign up for this Zoom Skillshop:
Please contact the TLC-SM via email: sanmarcostlc@palomar.edu. Be sure to include ALL of the following information (it makes it easier and faster for our staff to register you) from your Palomar College email account:
Full Name
Student ID#
Skillshop Name/Date/Time
Best Phone Number
Indicate if Promise Student (YR 1, YR 2, Prospective)
What are you looking for?
A - Z Index