New Students

Prospective Students
Simple Enrollment
Step 1: Apply and Activate
Step 2: Apply for Financial Aid
Step 3: Launch Your Success
Step 4: Review Your Placement and Develop an Ed Plan
Step 5: Register and Pay for Classes
General Resources

Current Students

Student Resources
Campus Life
Health and Safety
Student Support Programs

We Are Hiring!
May 25 - July 1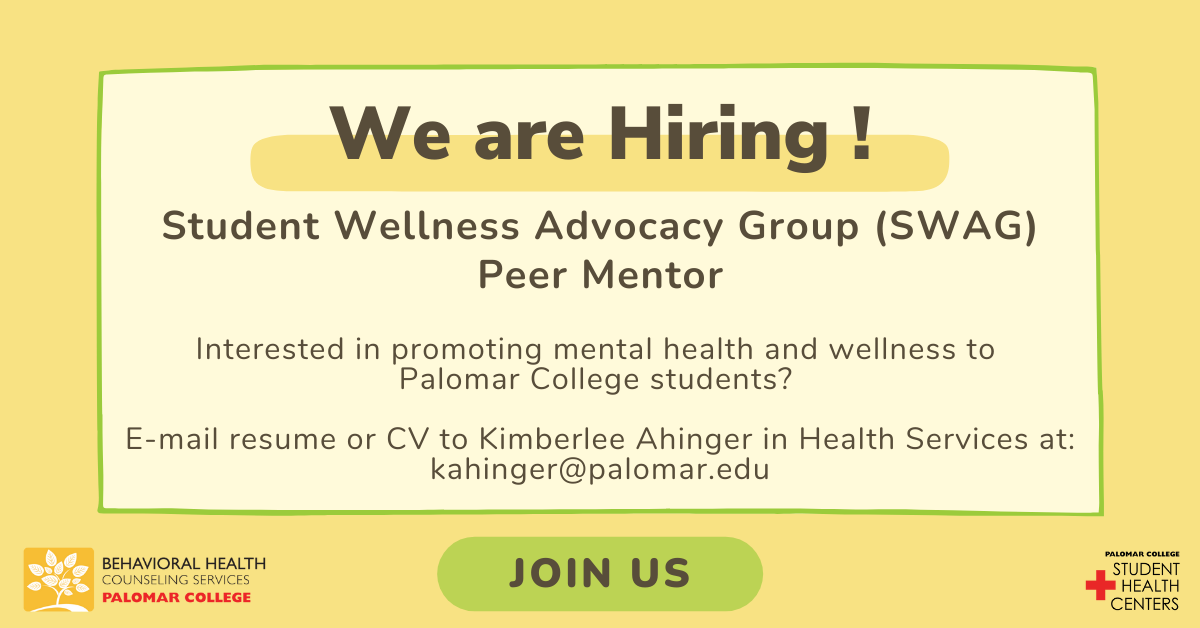 Join our Student Wellness Advocacy Group (SWAG) as a Peer Mentor!
Campus Location: Must be available to work remotely and at Palomar College locations primarily including the San Marcos Campus and occasionally the Education Centers in Escondido, Rancho Bernardo and Fallbrook.
Work Schedule: Not to exceed 15 hours per week
Hourly pay rate: TBD
Position Duties: The SWAG Peer Mentor is responsible for assisting the Health Services department with health education that promotes mental health and wellness to Palomar College students.
Provides valuable education to students through presentations and workshops on various mental health and wellness topics such as mindfulness, stress management, healthy relationships and more.
Assists with virtual and on campus health education activities and presentations including marketing, set-up/clean-up, and engagement.
Develops and distributes promotional materials like flyers, posters, handouts, presentation slides.
May also maintain and update communication and marketing on department's social media accounts.
Serves as liaison and connects students and employees to services and resources offered to students.
Contact Information: Please e-mail resume or CV to Kimberlee Ahinger in Health Services at: kahinger@palomar.edu.
What are you looking for?
A - Z Index