New Students

Prospective Students
Simple Enrollment
Step 1: Apply and Activate
Step 2: Apply for Financial Aid
Step 3: Launch Your Success
Step 4: Review Your Placement and Develop an Ed Plan
Step 5: Register and Pay for Classes
General Resources

Current Students

Student Resources
Campus Life
Health and Safety
Student Support Programs

National Campus Safety Awareness Month Event
September 20, 2017 @ 3:00 am - 6:00 am PDT
Join Palomar College Student Health Center and Police Department during National Campus Safety Awareness Month for our event encompassing education and resources on National Preparedness, Crime Prevention, Bystander Intervention and Risk Reduction.
Featuring: Women's Resource Center, Aurora Behavioral Health Care, OPD Crime Prevention and SD Office of Emergency Services.
When: Wednesday, September 20th
Time: 10:00am to 1:00pm
Where: Student Union Quad, San Marcos Campus
Stop by to learn about everything you need to know about campus safety at Palomar College. Help promote a safer campus environment by reducing stigmas about mental health.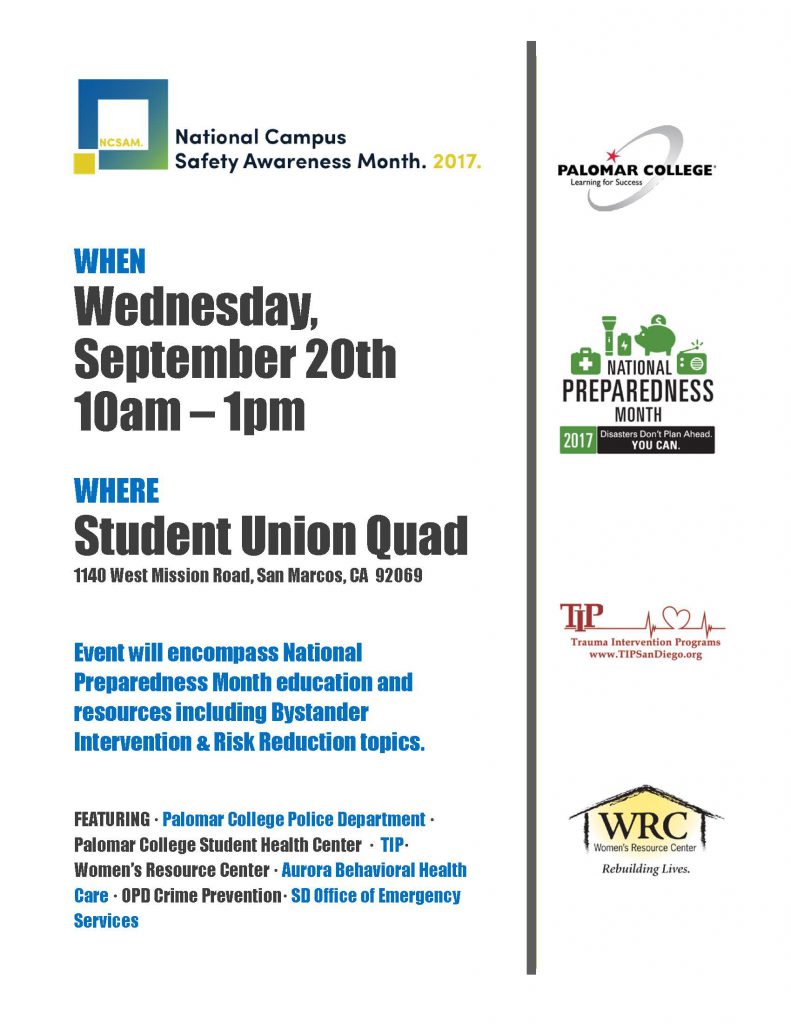 What are you looking for?
A - Z Index