New Students

Prospective Students
Simple Enrollment
Step 1: Apply and Activate
Step 2: Apply for Financial Aid
Step 3: Launch Your Success
Step 4: Review Your Placement and Develop an Ed Plan
Step 5: Register and Pay for Classes
General Resources

Current Students

Student Resources
Campus Life
Health and Safety
Student Support Programs

Is It Just Water Vapor?
October 1, 2019 @ 5:00 am - 6:00 am PDT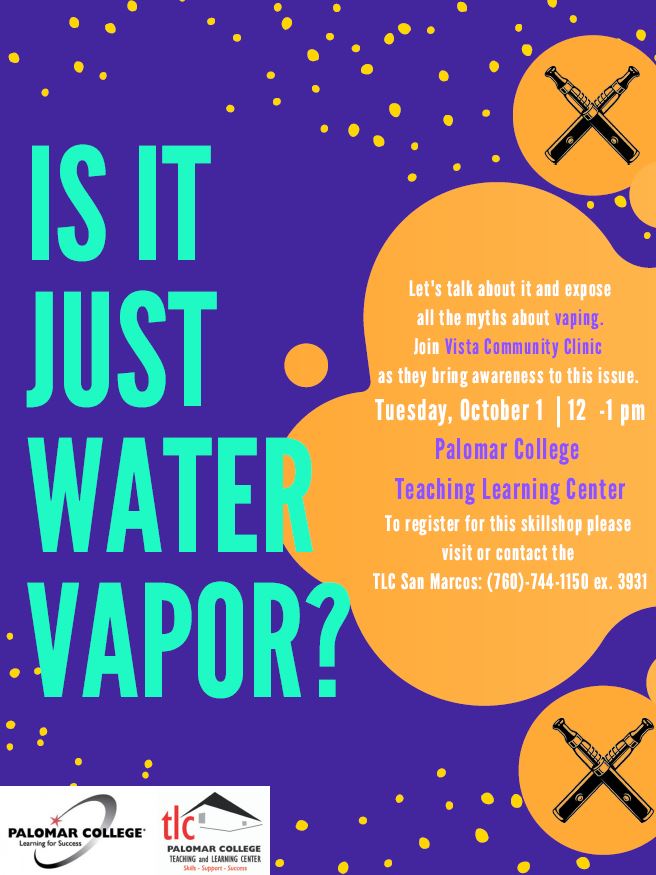 Let's talk about it and expose all the myths about vaping!
Please join Vista Community Clinic on Tuesday, October 1st @12pm in the TLC in discussing Big Tobacco's latest scheme, E-cigarettes and flavors.
To register for this Skillshop, please visit the TLC or call: (760) 744-1150, ext. 3931.
What are you looking for?
A - Z Index