New Students

Prospective Students
Simple Enrollment
Step 1: Apply and Activate
Step 2: Apply for Financial Aid
Step 3: Launch Your Success
Step 4: Review Your Placement and Develop an Ed Plan
Step 5: Register and Pay for Classes
General Resources

Current Students

Student Resources
Campus Life
Health and Safety
Student Support Programs

Check Your Mood Day
October 11, 2018 @ 4:00 am - 6:00 am PDT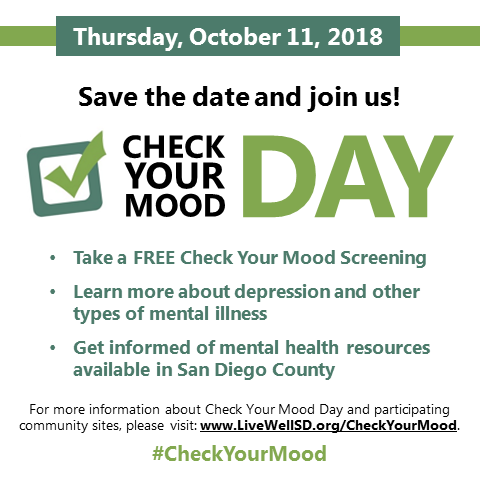 Save the Date!
This Thursday, October 11th is "Check Your Mood Day." Stop by the Student Union Quad between 11am and 1pm to take a FREE and anonymous Check Your Mood screening and get informed of mental health resources available on & off campus.
Check Your Mood Day is an annual event to engage and encourage San Diegans to assess and monitor their emotional well-being. Good mental health starts with you. How are you feeling?
What are you looking for?
A - Z Index