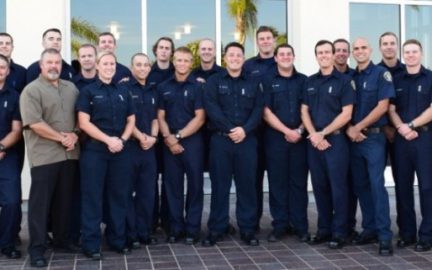 The Paramedic Program prepares the student in the elements of pre-hospital advanced life support.  Upon successful completion of the program, the student is eligible to take the State of California EMT-P certification exam, which is the National Registry Emergency Medical Technician-Paramedic Exam.
Admission to the program is by special application.  To be eligible for consideration, the applicant must: 1) Have 6 months full-time pre-hospital experience of equivalent as an EMT Basic.  2) Be eligible for admission to Palomar College. 3) Meet academic requirements outlined in the Paramedic Program brochure produced by the EME Program. AND 4) Have completed ZOO 145 or BIOl 145 with a grade of "C" or better and EME 175 and EME 175L with a "B" or better.
Associates Degree in Science (AS) / Certificate of Achievement (CA)
To earn a Certificate of Achievement in this program, simply complete program requirement courses listed below. To earn an Associate's Degree in this program, complete the program requirements below and the Associate Degree General Education requirements found here.

Course
Units
Face-To-Face at ESC
Online
Pre-Req
Prerquisite Courses
EME 106: Emergency Medical Technician (Lecture)
6.0
Summer 2022, Fall 2022
EME 105 with a minimum grade of B; Must be age 18 by the first day of class; Current American Heart Association CPR for BLS Provider or American Red Cross for the Health Care Provider.
EME 106L: Emergency Medical Technician Skills (Laboratory)
1.5
Summer 2022, Fall 2022
EME 105 with a minimum grade of B; Must be age 18 by the first day of class; Current American Heart Association CPR for BLS Provider or American Red Cross for the Health Care Provider.
EME 175: Paramedic Preparation (Lecture)
3.0
Fall 2022
Summer 2022
Current EMT with a minimum of 3 months full time pre-hospital experience
EME 175: Paramedic Preparation Skills (Laboratory)
1.0
Summer 2022, Fall 2022

Current EMT with a minimum of 3 months full time pre-hospital experience
BIOL 145: Introduction to Anatomy and Physiology
3.0
Summer 2022, Fall 2022
Program Requirements
EME 206: Introduction to Paramedic Training (Lecture)
5.5
Fall 2022
Admission into Paramedic Program
EME 206L: Introduction to Paramedic Training (Laboratory)
1.5
Fall 2022
Admission into Paramedic Program
EME 207: Paramedic Medical Training (Lecture)
10.0
Fall 2022
Admission into Paramedic Program
EME 207L: Paramedic Medical Skills (Laboratory)
2.0
Fall 2022
Admission into Paramedic Program
EME 208: Paramedic Trauma Training(Lecture)
4.5


Summer 2022
Admission into Paramedic Program
EME 208L: Trauma Skills (Laboratory)
1.0
Summer 2022
Admission into Paramedic Program
EME 209: Paramedic Obstetrical and Pediatric Training (Lecture)
2.5
Summer 2022
Admission into Paramedic Program
EME 209L: Paramedic Obstetrical and Pediatric Skills (Laboratory)
1.0
Summer 2022
Admission into Paramedic Program
EME 210: Hospital Clinical Experience
3.5
Fall 2022
Admission into Paramedic Program
EME 211: Clinical Integration I
1.0-1.5
Fall 2022
EME 212: Clinical Integration II
1.5-2.0
Summer 2022
EME 215: Field Internship
10.0
Fall 2022
A minimum grade of "B" in EME 210, or concurrent enrollment in EME 210
Total Units
44.0-45.0