Amy Hacker – Concert Hour
March 2 @ 1:00 pm

-

2:00 pm

PST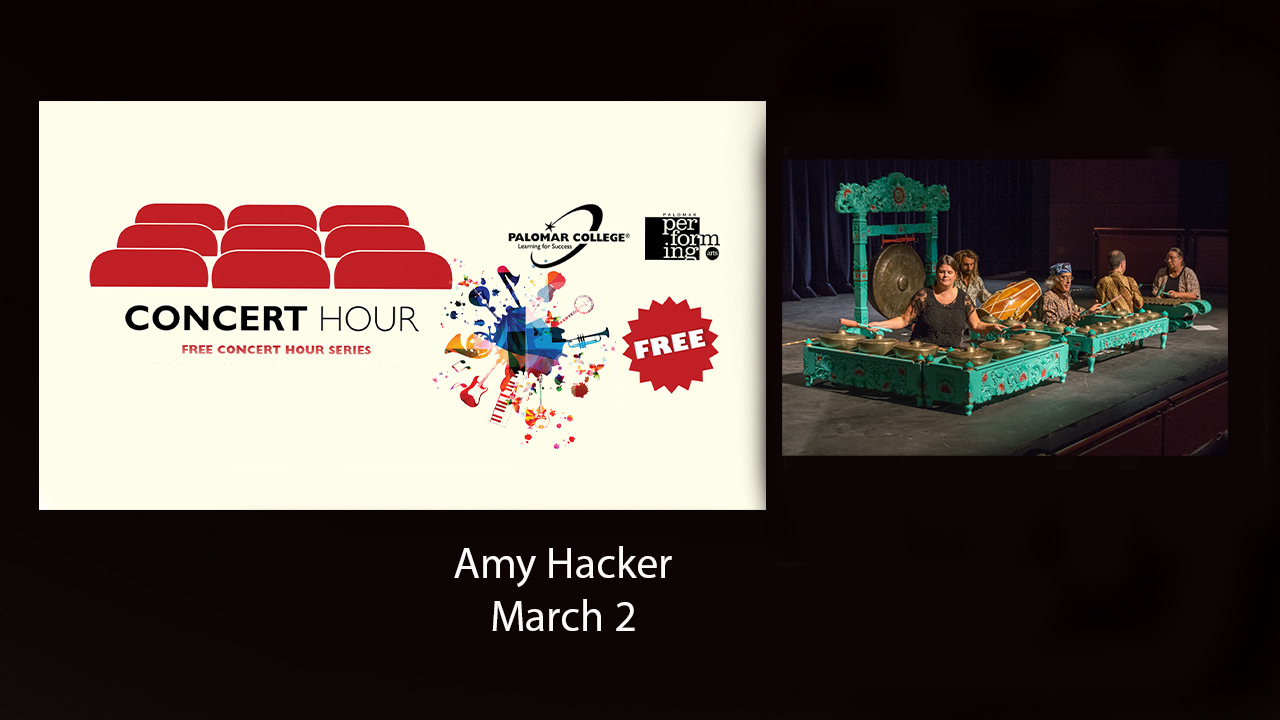 LIVE at the Howard Brubeck Theatre! Back on Stage and In Person!
Palomar Performing Arts Proudly Presents
CONCERT HOUR
Every Thursday at 1pm
Join us every Thursday at the Howard Brubeck Theatre on the San Marcos Campus for a FREE LIVE Concert Hour Performance at the Howard Brubeck Theatre on the Palomar College Campus, San Marcos. Palomar Performing Arts is excited to open its doors to our students, staff and community members for our Free Concert Hour Series in person every Thursday at 1pm LIVE on the Howard Brubeck Theatre Stage.
Concert Hour is a FREE music enrichment series presented for our students and the community by the Palomar College Performing Arts Department.
Parking is Free in lots 1 & 15 during Concert Hour.
Kembang Sunda is a San Diego-based ensemble that performs Sundanese gamelan degung music from West Java, Indonesia.  Degung music developed in the royal Sundanese courts of West Java beginning in the fourteenth century.  The ensemble consists primarily of tuned bronze idiophones; a large hanging gong (go'ong), large rack gongs (jenglong), medium rack gongs (bonang), a mid-range metallophone (panerus), and a high-range metallophone (peking).  Other instruments include a set of tuned drums (kendang), a wooden xylophone (gambang), and a bamboo flute (suling).  Degung music, like all gamelan styles, is based on a colotomic structure: music organized into cycles defined by periodic punctuation played by specific instruments.  In ancient times, degung music was played in the royal courts to welcome guests, accompany dance, and aid in meditation.  Today, degung music is typically heard at traditional Sundanese wedding ceremonies and other important events where an atmosphere of elegance and Sundanese cultural authenticity is desired.
Related Events