New Students

Prospective Students
Simple Enrollment
Step 1: Apply and Activate
Step 2: Apply for Financial Aid
Step 3: Launch Your Success
Step 4: Review Your Placement and Develop an Ed Plan
Step 5: Register and Pay for Classes
General Resources

Current Students

Student Resources
Campus Life
Health and Safety
Student Support Programs

Palomar Choral Academy
June 20 - June 25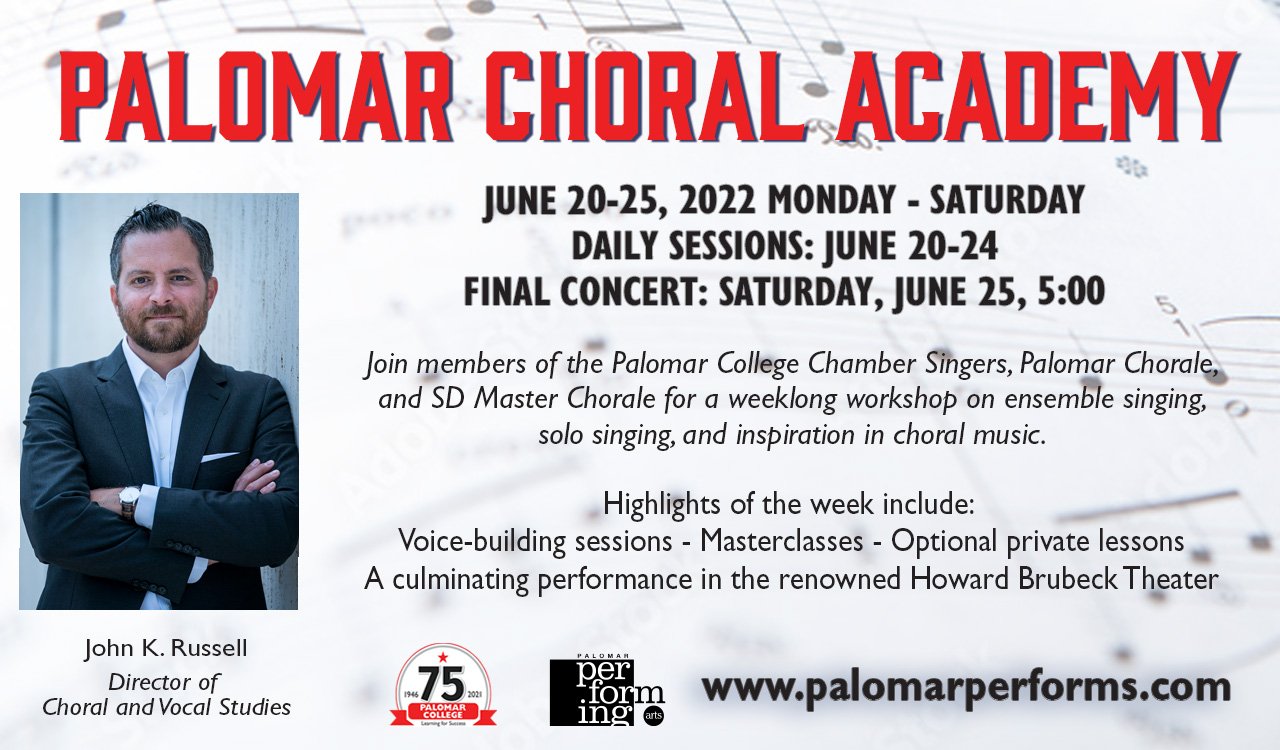 Palomar Choral Academy
During the week of June 20-25, we will be starting the Palomar Choral Academy for interested high school singers. The PCA will take place on the Palomar College campus and feature daily voice-building sessions, choral rehearsals, optional private voice lessons, special guest presentations, socializing, and more. The event is co-sponsored by the Palomar College Foundation, Palomar Performing Arts, and the San Diego Master Chorale. It will include current and former members of the Palomar College Choral and Vocal Studies program and members of the SD Master Chorale. On Saturday, June 25, our culminating performance will feature the PCA Chorus joined by special guest soloist Leonard Patton, among others. We hope this event will help add to the energy we are all trying to instill in our singers now that we are back teaching choral music in person.
ENROLL HERE: LINK 
Dates
Monday, June 20 to Saturday, June 25, 2022
Location
Palomar College Performing Arts Department
1140 West Mission Road
San Marcos, CA 92069
Costs
$175 per student (limited scholarships available)
$40 for a 30-minute lesson
$80 for a 60-minute lesson
Daily Schedule (Mon-Sat)
| | |
| --- | --- |
| 10:00 am – 12:30 pm | Morning Session |
| 12:30 pm – 2 pm | Lunch |
| 2 pm -3:30 pm | Afternoon Session |
| TBD | Individual lessons |
Final Concert
Saturday, June 25, 5:00 pm
Choral Repertoire Selected from The Following
Stand By Me (Mark De-Lisser)
Ave Verum Corpus (W.A. Mozart)
Love's In Need of Love Today (Stevie Wonder)
Us and Them (Roger Waters/David Neerman)
Ndikhokhele Bawo (traditional South African/Arr. Pitout)
My City of Ruin (Bruce Springsteen)
Wake Me Up (Avicii/Arr. Henrik Dahlgren)
Precious Lord, Take My Hand (Mark De-Lisser)
Total Praise (Richard Smallwood)
Vere Languores Nostros (Tomas Luis de Victoria)
Goldwing Introit (Billie Eilish)
Soon ah will be done (William Dawson)
Related Events
What are you looking for?
A - Z Index