New Students

Prospective Students
Simple Enrollment
Step 1: Apply and Activate
Step 2: Apply for Financial Aid
Step 3: Launch Your Success
Step 4: Review Your Placement and Develop an Ed Plan
Step 5: Register and Pay for Classes
General Resources

Current Students

Student Resources
Campus Life
Health and Safety
Student Support Programs

Current Waves – STUDENT MUSIC COMPOSITIONS – FREE EVENT
May 19 @ 7:00 pm - 9:00 pm PDT
$10 – $15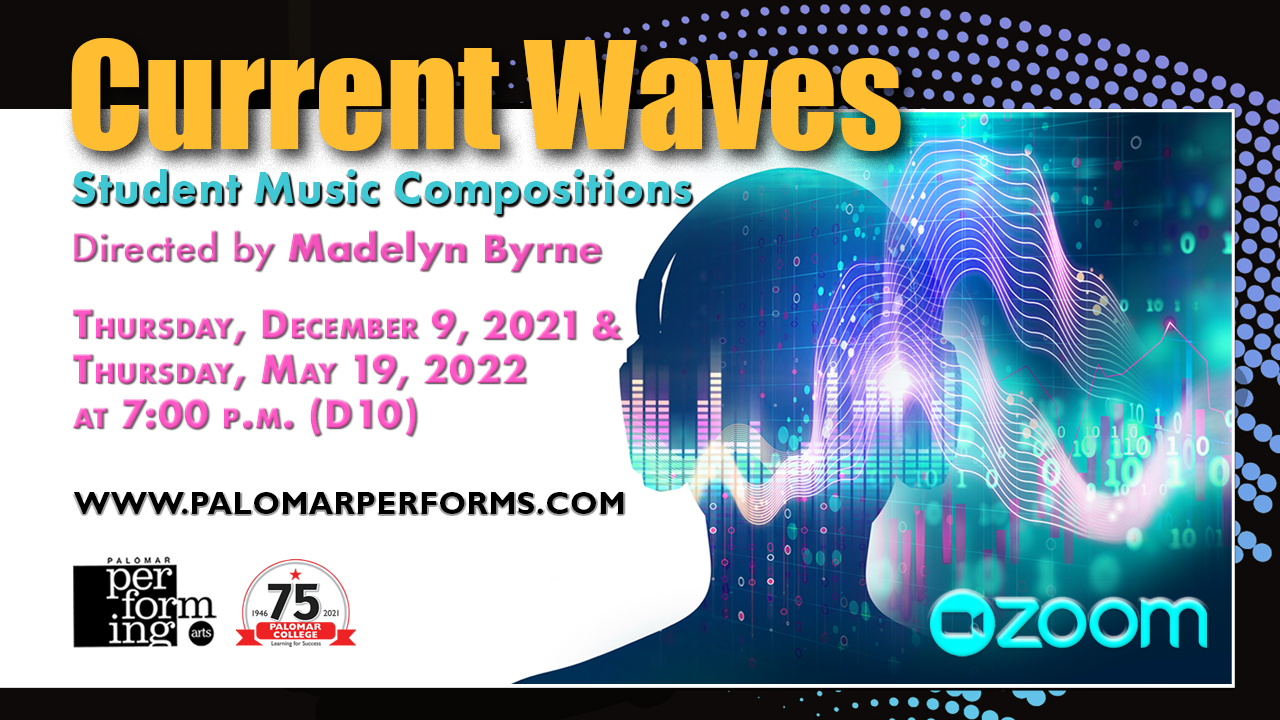 CURRENT WAVES – Directed by Dr. Madelyn Byrne
Thursday May 19, 2022 at 7:00 p.m.
(D-10)
FREE EVENT
CURRENT WAVES IS CURRENTLY BEING OFFERED AS A FREE EVENT TO STUDENTS/FACULTY AND THE GENERAL PUBLIC.
PLEASE ARRIVE AT STUDIO LAB (D10) AT LEAST 20 MINUTES PRIOR TO THE PERFORMANCE TO SECURE YOUR FREE SEATS TO THIS FREE EVENT. NO TICKETS ARE REQUIRED.
Please join us for Palomar College's Spring 2022 Composers Concert.
Enjoy a wide range of stylistic approaches as each student freely explores their own compositional voice in the style of their choosing, while simultaneously being challenged to achieve excellence in their craft. Come and support your classmates and hear the music of tomorrow, today!
Related Events
What are you looking for?
A - Z Index