New Students

Prospective Students
Simple Enrollment
Step 1: Apply and Activate
Step 2: Apply for Financial Aid
Step 3: Launch Your Success
Step 4: Review Your Placement and Develop an Ed Plan
Step 5: Register and Pay for Classes
General Resources

Current Students

Student Resources
Campus Life
Health and Safety
Student Support Programs

Lesi Mei – Concert Hour
April 14 @ 1:00 pm - 2:00 pm PDT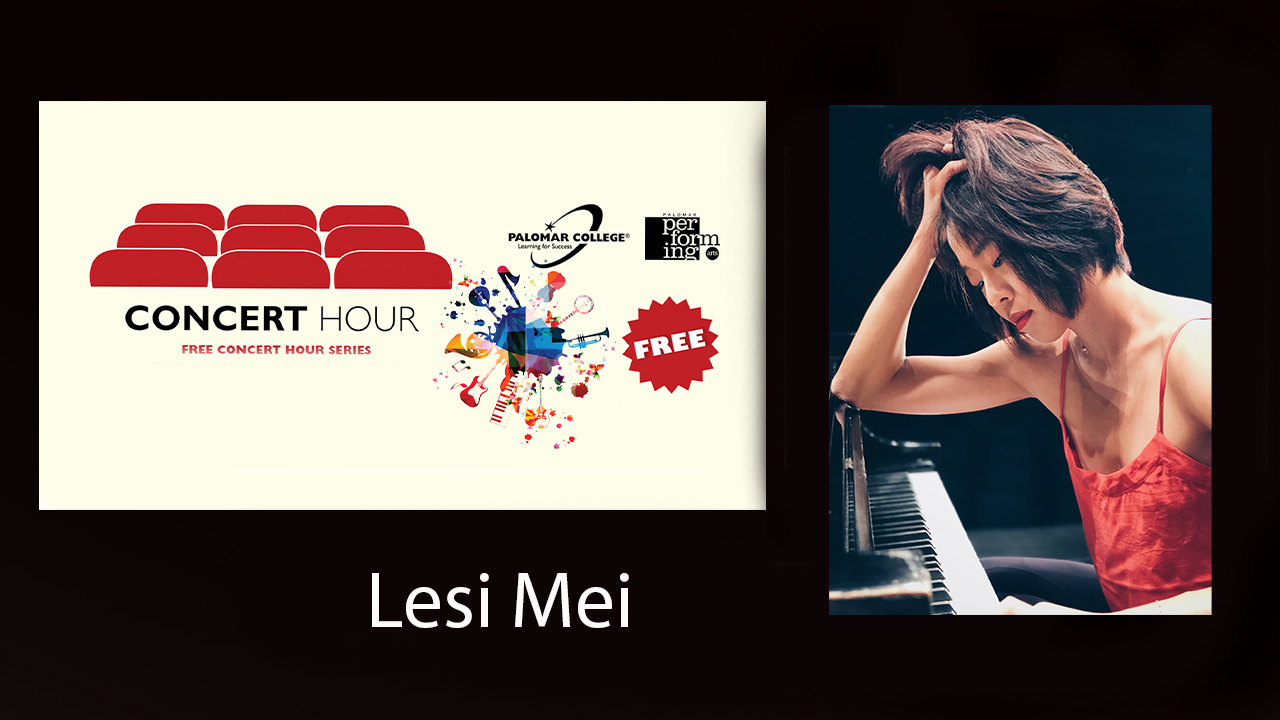 LIVE at the Howard Brubeck Theatre! Back On Stage and In Person!
Palomar Performing Arts Proudly Presents
CONCERT HOUR
Every Thursday at 1pm
Or View Via Zoom Click Here to Register for Your Zoom Link
Lesi Mei, classical pianist, manifests dazzling virtuosity and stunning musicality the moment her fingers touch the keys. She was the first call pianist for Beijing International Orchestra before traveling the U.S., performing in festivals as the Mostly Modern Festival in Saratoga Springs, International Keyboard Institute and Festival in New York City, and Olympiad Piano Festival in Colorado Springs, where she was a semifinalist in the concerto competition. Her performance diploma hails from the European Music Institute in Vienna, under the tutelage of the esteemed Professor Martin Hughes. Lesi is also known for her impeccable timing, sensible touch and the ability to bring out the best of the group whenever she collaborates with other musicians, which makes her in high demand as a collaborative pianist. Also, Lesi served on the panel for the inaugural San Diego International Piano Competition for Outstanding Amateurs in Summer 2016. Besides Master of Music degree in piano performance, she also holds Master of Science degree in Exercise Physiology from Florida State University, FL, and Bachelor of Engineering in Biological Engineering from Beijing Institute of Technology, CHINA.
Related Events
What are you looking for?
A - Z Index