Free Workshops, Lectures & Other Events
Grand Opening & Dedication of the Edwin & Frances Hunter Arboretum Trails
Thursday, September 26, 2019
2:00 pm
Refreshments will be served.
Park in Parking Lot 5.
RSVP to (760) 744-1150 ext. 2956
or email reply to publicaffairsfb@palomar.edu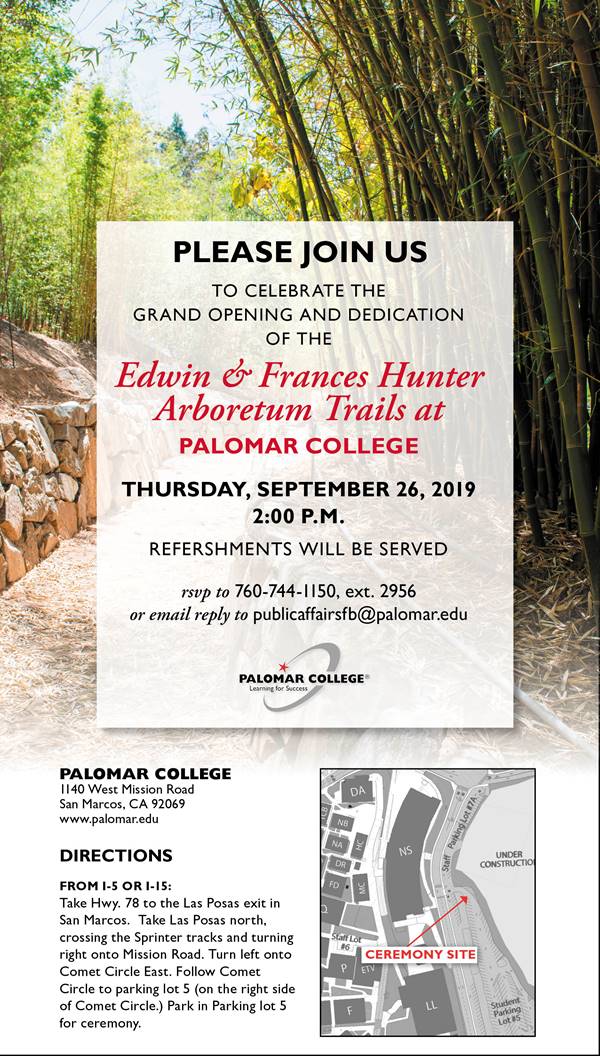 ---
"Palomar College Garden Tour"
Saturday, October 26, 2019
10:00 am – Noon
Free Parking in Parking Lot 12 for this tour.
We will start the tour at the Campus Police building in lot 12, walk through our South American Garden, Madagascar Gardens, stroll through the Polynesian Garden, and then head to the Arboretum.
If there is time at the end of the tour, we might visit the Cactus and Succulent Garden. This tour will focus on plant diversity through the geological ages, ecology, ethnobotany and general gardening in Southern California.
Optional:
Bring your own water, snacks, sunscreen lotion, hat and sunglasses.
Wear comfortable walking shoes.
Please RSVP Tony Rangel if you will be attending this tour.
Email: arangel@palomar.edu 
Or call: (760) 744-1150  x2133

---
NOTE TO FACULTY:Thank You for Your Help and Support!
Become a Member: MembershipForm

You can receive Professional Development credit by taking our workshops, tours and lectures.
Maximum of 2 hours of PD credit per semester. (PD Code #120)
Please sign-up with the Professional Development office.  http://www.palomar.edu/pd/
Call (760) 744-1150 x2250 for more information.
Read More About Our Speakers